Granville Road
Granville Road started out as a handful of traders selling off discounted and clearance lines making use of the reasonably priced rent (at least compared to other areas of Tsim Sha Tsui), now it's becoming a popular shopping destination.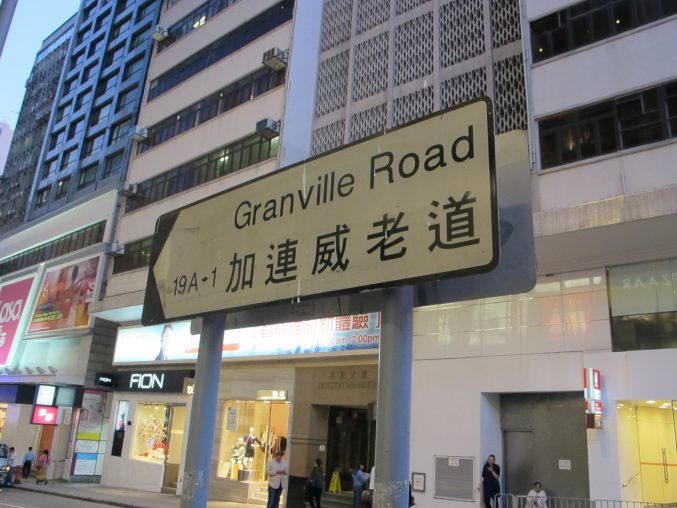 True to its heritage it's still an area for finding discounted fashion lines comprising mostly women's fashion and mostly Asian sizes. I would also add that it's focussed on the younger crowd of shoppers and also has a bent for Korean fashion which has been holding popularity with Asian shoppers for some time now.
You can find a lot of factory clearance stock, end-of-season lines, and there are some seconds stores too. Although, you can find some independent labels selling lines here too and for that head to Rise Shopping Arcade (5-11 Granville Circuit) and Beverley Commercial Centre (87-105 Chatham Road).
Some well-known stores include C.P.U which offers brands such as Arnold Palmer, Birkenstock, Adidas, Nike and Jimmy Black. IZZUE which is a Hong Kong fashion icon, Cotton ON clothing, Monki clothing and accessories and Workware heritage clothing at 29 Granville Road, NIKE at 46 Granville Road, actually it really is endless, there is sooo many. Clear your diary for an afternoon (at least) and go explore, you won't be disappointed.
Shopping makes you hungry, really. Fortunately, there are loads of places to snack away at. For Hong Kong style try Tai Ping Koon Restaurant (40 Granville Road), a must try is Yum Cha Tsim Sha Tsui (20 Granville Road), Pie and Tart (77 Granville Road). A great little foodie street near Granville Road is Hau Fook St where you'll find Champ Hot Pot, ARISU Korean Restaurant, Yueshi Shengxiang Zhengqi Seafood Hot Pot, Hung Lee (Yum Cha), Caterking Dim Sum (Yum Cha) and more.
For coffee there's a Starbucks in the Albion Centre (2-6 Granville Road), Crema Coffee (96 Granville Rd) or Tamper Coffee Company (3 Granville Circuit).
After all that shopping and eating, your feet won't feel tired? Oh yes they will. So, head to Allure Spa (http://www.hkallurespa.com) and get a massage in their wonderful little urban sanctuary.
Address: Granville Road, Tsim Sha Tsui,  Kowloon Hong Kong, China
General store open times: 10am until 10:00pm or 11:00pm
Map
Questions? Your tips?
You