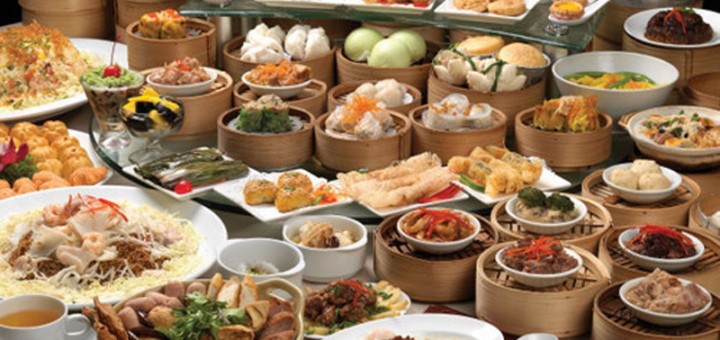 Cantonese Cuisine Recommended Restaurants
Trying the local cuisine is another Hong Kong must do. Cantonese cuisine is one of the eight great cuisines of China and some say the finest. It's very acceptable to most visitors who may struggle with the spiciness and oiliness of Sichuan or Hunan cuisines as an example. One of the most popular styles within the Cantonese genre is Dim Sum. But, there is much more to Cantonese food than just Dim Sum, here are some well known restaurants:
Yung Kee Restaurant
Located in Central, Yung Kee Restaurant has a great reputation for serving authentic Cantonese food. Every time you enter the restaurant, you can see many people are waiting for the empty seats. The Golden Roasted Goose can be almost seen on every table. Besides, the sour ginger preserved eggs, piper shrimp and mango pudding are also highly recommended.
Price: About 236 RMB per person.
Address: Yung Kee Building, 32-40 Welington Street, Central
Tel: 2890-8616
Qiao Tei Chili Crab
As an authentic Cantonese restaurant, here is famous for its seafood dishes. There are many posts stars who had come here for dinner hanging on the walls, showing how popular the restaurant is. The restaurant is not very spacious but very elegant. You can't miss the most popular Typhoon Shelter Fried Crab. Besides, the mantis shrimp, seafood fried rice and seafood porridge are also recommended.
Price: About 321 RMB per person.
Address: 429 Locakhart Road, Wanchai, Hong Kong Island
Tel: 2573-7698
Chee Kee
Chee Kee is almost the most popular Cantonese restaurant in Hong Kong, not only because eating here is cheap but also because the food it served is full weight & authentic. The signature dish is Fresh Shrimp Wonton. Every Wonton contains an entire shrimp to make sure your every bite is tasty.
Price: About 50 RMB per person.
Address: 84 Percival Street, Causeway Bay, Hong Kong Island
Tel: 2890-8616
Lin Heung Tea House
As the oldest tea house in Hong Kong, Lin Heung Tea House has a history of over 100 years. Here is the best place for you to eat the Cantonese Dim Sum. Need to mention is that here is so popular that you need to be prepared to 'fight' for the food. The shrimp rice rolls and barbecued buns with pork are highly recommended.
Price: About 60 RMB per person.
Address: 160-164 Wellington Street, Central
Tel: 2544-4556