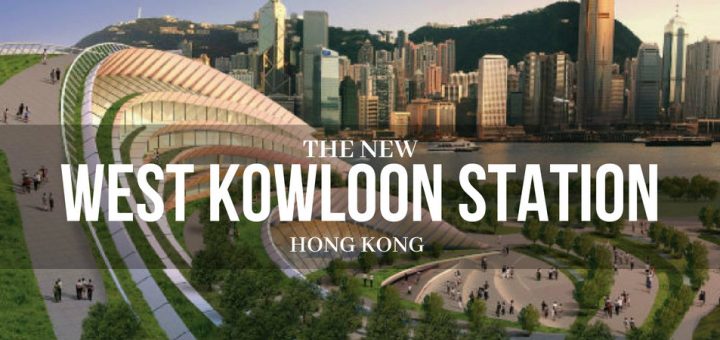 Heading to or from Hong Kong via High Speed Rail XRL? Here is a guide to the new Kowloon Station. The station is a spectacular modern architectural marvel incorporating green space, shopping, intercity fast rail, and a major transport hub.
If you are traveling from Mainland China to Hong Kong, or vice versa, then you may like to take a convenient fast train via the new West Kowloon Station.
Services are scheduled to begin soon (September 2018) and travel times between Hong Kong and Shenzhen, Guangzhou and beyond will drop dramatically.
Instead of the old way (which will still be an option) of taking the rather slow East Rail Line to Lo Wu or Lok Mau Chau, then, passing through immigration and then finding a train or bus for your onward journey into mainland China will be a thing of the past. The immigration checkpoint for the mainland, and Hong Kong, will be located at West Kowloon Station, meaning you pass through immigration at that point and can relax the rest of the way until you reach your final destination.
Instead of taking an hour or more to reach Shenzhen, travel time will be reduced to 14 minutes with the terminal in Shenzhen located at Futian Station, right in the CBD of the city.
Here is a video walkthrough of how to navigate the new West Kowloon Station
Floor plan of West Kowloon Station
| | | |
| --- | --- | --- |
| 1 | Landscaped Deck | A large public green space with a footbridge connecting to Kowloon MTR Station and Austin MTR Station. |
| G | Ground Level | Entrance, concourses, public transport interchange |
| B1 | Ticket Hall | Ticketing lobby, taxi drop-off stations, parking |
| B2 | Arrival Level | Austin Road West underpass arrival hall, offices, taxi pick-up stations, subways to Austin Station, the station car park |
| B3 | Departure Level | Customs and Immigration, waiting room, departure hall, duty-free stores, food and beverage stalls. |
| B4 | Departure Platforms | Train boarding |
Getting To and From West Kowloon Station
Via MTR (subway/metro)
Austin MTR Station is a 2-minute walk via footbridge on Level 1 or underpass on Level B2. Austin Station is on the West Rail which can connect you to
East Tsim Sha Tsui Station from where you can walk to Tsim Sha Shui Station, Avenue of Stars, and Victoria Harbour.
Hung Hom Station where you can catch trains on the East Rail Line that head to Sha Tin, Tai Po, Sheung Shui, and Lo Wu and Lok Mau Chau border crossings.
Nam Cheong Station and all the way to Tuen Mun Station
Kowloon MTR Station is an 8-10 minute walk via footbridge on Level 1 or underpass on Level B2. Kowloon Station is on the Tung Chung Line and Airport Express Line. The Airport Express Line takes you directly to Hong Kong International Airport. Via The Tung Chung Line you can connect to
Hong Kong Station which is located in Central on Hong Kong Island. IFC is located here and its a short walk to Central Station.
Olympic Station where there is a large shopping mall being Olympian City.
Tsing Yi Station
Sunny Bay Station where you can get on the Disneyland Resort Line to visit Disneyland.
Tuch Chung Station where you can visit Citygate Outlets, Nong Ping 360, and Giant Buddha.
Buses
On the ground floor, you can find bus services connecting you to various regions of the city.
Taxi
On Level B2 you catch find a taxi stand. On arrival to the station, the taxi will drop you off on Level B1.
Ticket Prices for XRL Trains
Hong Kong to Guangzhou South – Fare: 260 HKD – Travel time: 48 Minutes
Hong Kong to Humen – Fare: 210 HKD – Travel time: 30 Minutes (estimate)
Hong Kong to Shenzhen North – Fare: 90 HKD – Travel time: 23 Minutes
Hong Kong to Shenzhen Futian – Fare: 87 HKD – Travel time: 14 Minutes
West Kowloon Station Train Schedule
4 trains per hour to Shenzhen Futian & Shenzhen North
2 trains per hour to Guangzhou South
33 trains per day to 16 Mainland China cities, including Beijing West, Shijiazhuang, Zhengzhou East, Wuhan, Changsha South and Shanghai Hongqiao.
Map