Elements Shopping Mall Kowloon HK
Located in the west Kowloon, Elements can be called the most top-level shopping mall in Hong Kong. The mall includes a variety of new ideas and offers customers one-stop shopping experience, covering retail, leisure, dining, entertainment and cultural experience.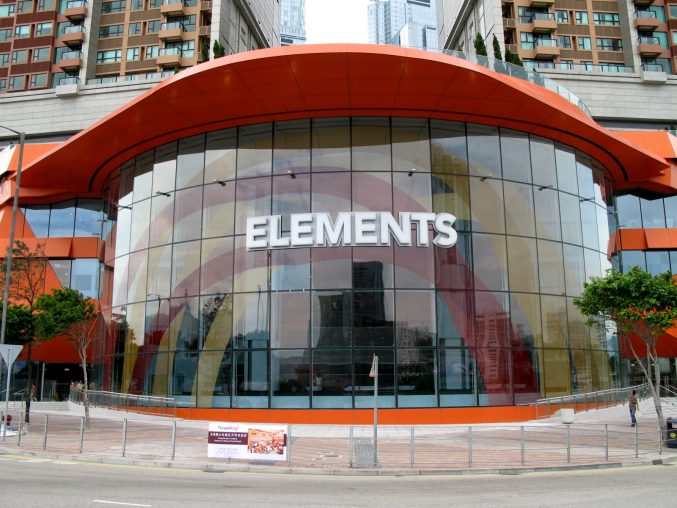 Designed by famous construction company-Benoy, Elements is also the first horizontal shopping mall of Hong Kong. Possessing of a total business of approximately one million square feet, the mall is divided into five subject areas: Metal, Wood, Water, Fire, Earth, meaning the balanced, and high-end lifestyle.
Here you will find many international big-name luxury brands such as Anteprima, Burberry, Coach, Chanel, Diesel, DKNY, Fendi, GUCCI, Kent&Curwen, Louis Vuitton, MIU MIU, Montblanc, Valentino, Salvatore Ferragamo and Versace. There are also some big-name brands which are first introduced in Hong Kong, including Karen Millen and Pringle of Scotland. Bottega Veneta and Prada also opened large stores owning area of over 3000 square feet. And there are many more fashion stores, including Zara and H&M.
There are also the most complete jewelry & watch flagship stores here, including many top-level brands, such as Bvlgari, Cartier, Chaumet, Damiani, IWC, Mikimoto, Montblanc, Piaget, Pandora and Tiffany.
Hungry? No matter casual dining, fine dining or business dining, there is always plenty of choice here. There's 9 or so Asian cuisine options including ramen, sushi, Thai and more, there is a Panaderias bakery plus coffee shops and cafes including Habitu, Holly Brown, Pret A Manager and many more. There is also a small food court and bakery at the entrance of ThreeSixty.
ThreeSixty is the organic supermarket formerly located at Central, here you will find many organic fresh foods along with imported organic brands and artisan food products, see http://www.threesixtyhk.com for more.
There is also a mainland coach terminal here, so it's a comfortable place to catch a bus to Shenzhen, Shenzhen Airport and beyond into mainland China. Buses are run by www.cnhkbus.com.
What can you get there?  clothing, accessories, jewelry, cosmetics, antiques, electronic goods, furniture, housewares, toys, Asian arts and crafts, and much more.
Prices: retail shopping
Website: www.elementshk.com
How to Get there: MTR Tung Chung Line, Kowloon Station
Address: 1, Austin Road West, Tsim Sha Tsui, Kowloon
Map with hotels nearby Elements HK
[xmlparser feed="http://macaushopper.com/hc/list.php?lat=22.304582&long=114.161768&r=.5&lim=25″ limit="25″ display="hide"]
More things to do by type
More things to do by area
More things to do by nearby MTR Station