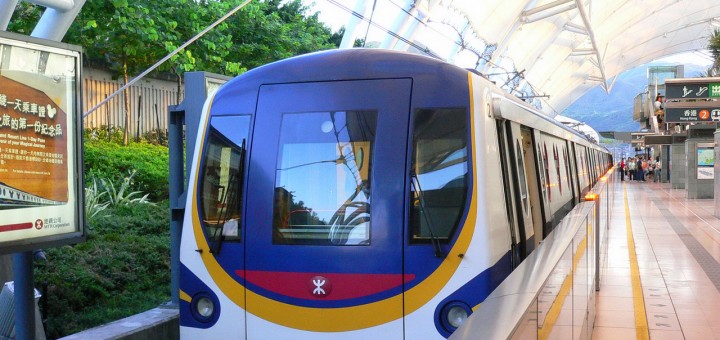 Taking Mass Transit Railway (MTR) is one of the most convenient ways to travel in Hong Kong. It is efficient, quick and cheap. Depending on the distance, single journey fares range from 4 HKD to 26 HKD.
You can use local currency to buy tickets from automatic vending machines located in the station or use a preloaded touch card, called the Octopus Card which is sold by the MTR operators. You can also buy a Tourist Pass which gives you unlimited travel for a certain period of time. Using a card is the most convenient way to use public transport systems in Hong Kong and it's highly recommended if you are going to be traveling to the sights and shopping areas.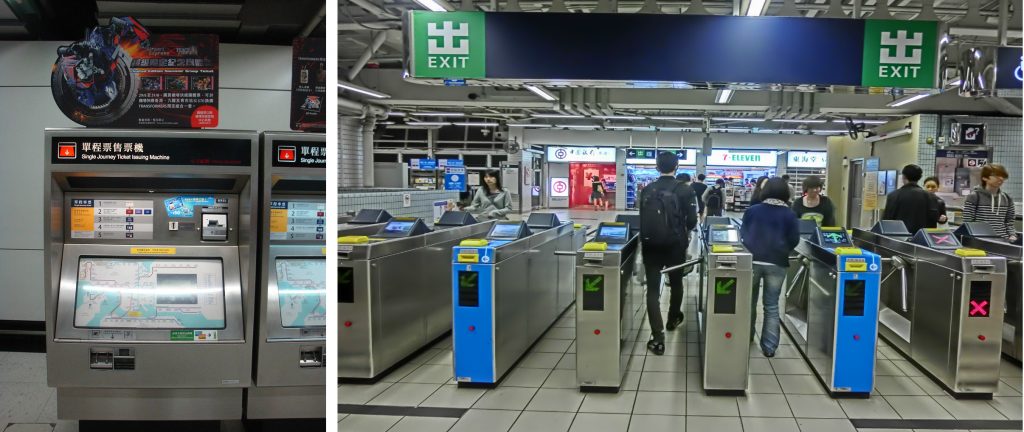 Photo: MTR ticket vending machine and entry/exit turnstiles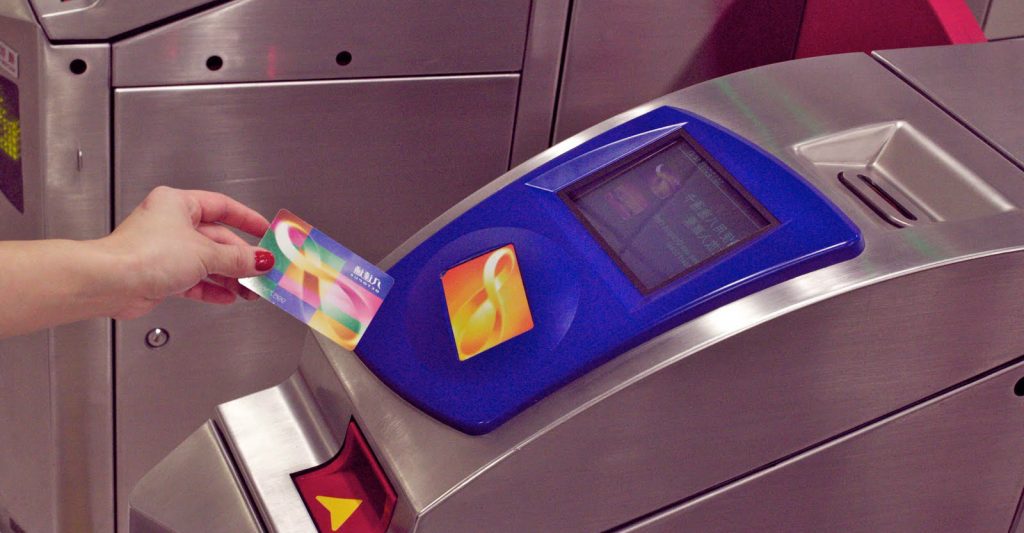 Photo: Tourist Day Pass and an entry turnstile ticket touchpad
For Tourist Pass and Octopus Card info, journey, and trip planning visit the MTR website OR try the route planner at hketransport.gov.hk which also has an APP.
Operating times: in general from 6AM to 1AM. But service hours vary for each line so check the line you're travelling on.
For getting to and from the airport check out our Guide to getting to and from the Airport  and more about the Airport Express.
Shopping By MTR Station
View posts and reviews of stores and shopping areas according to their closest MTR (subway) Station.
MTR: Wan Chai – MTR Admiralty – MTR Causeway Bay – MTR Central – MTR Hong Kong – MTR Jordon – MTR Kowloon – MTR Kowloon Tong – MTR Mong Kok – MTR Mong Kok East – MTR Sham Shui Po – MTR Shatin – MTR Taikoo – MTR Teun Mun – MTR Tsim Sha Tsui – MTR Tsuen Wan – MTR Tsuen Wan West – MTR Tung Chung – MTR Tung Chung Line – MTR Yau Ma Tei
HK MTR Station and rail line map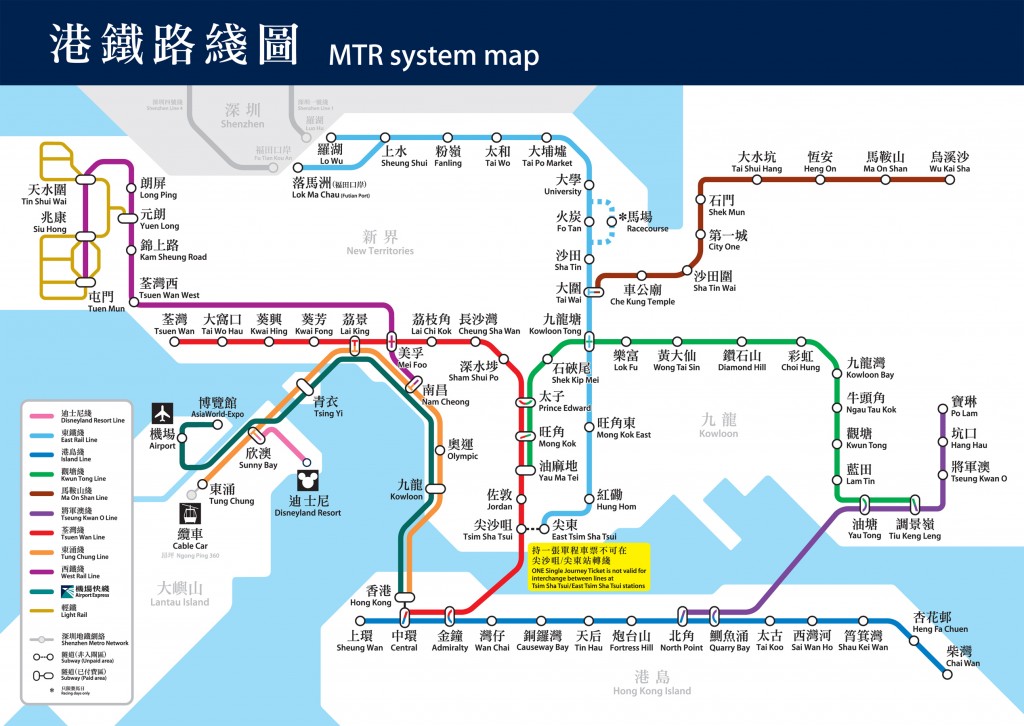 HK Map showing Rail Lines and MTR Routes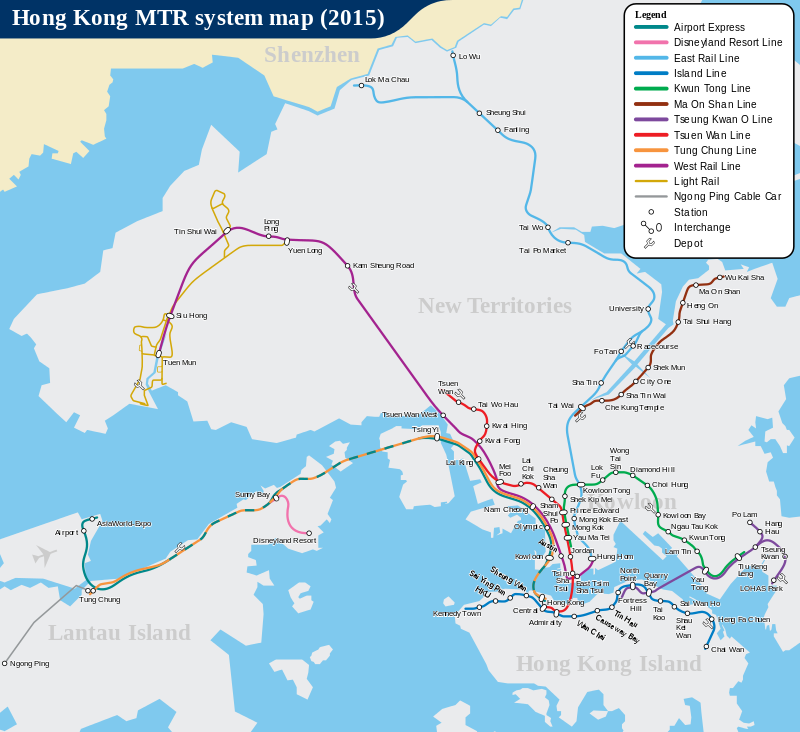 (see the maps page for more city maps)
Tips for Using Hong Kong's MTR System
Here is one of the most important tips you can get for enjoying your time in Hong Kong, and that is to understand the dynamics of one of the most densely populated places on the planet.
Not only is it densely populated but it also receives thousands of visitors daily from Mainland China. It can be crowded, busy, hectic and more, but, that's part of what makes Hong Kong special. Transport systems such as the MTR can be packed to the brim during peak times, so much so, in some cases, many people may not squeeze in and have to wait for the next train. That's the daily life. For a holidaymaker, it's probably not the experience you're chasing.
Tip #1 Avoid peak times. That includes morning and afternoon rush hours being 7.30am to 9.30am and 5pm to 7pm weekdays.
Tip #2 Use the right MTR exit. Most stations have several exits, be sure to use the right one that matches the direction you want to go. Use the wrong one and you'll be doing a lot of walking, or worse strike a dead-end and have to go back through the station again.
Tip #3 Be mindful of the transfer distances. For example,  if you need to go from MTR Tsim Sha Tsui to MTR Tsim Sha Tsui East; it's a 15-minute walk via the underground pedestrian tunnel.
Tip #4 Avoid Large Luggage. There are lots of stairs and escalators, plus lots of people, it's not much fun battling through that with a suitcase and bags of shopping on a regular basis.
Know Your Lines and Stations
The entire network is made up of 22 different lines and 155 stations! Fortunately for tourists and visitors, there are just six core lines that cover most of the hotspots and places of interest.
The Airport Express Line connects Hong Kong International Airport to the city centre. It has 3 main stations: Airport, Kowloon, and Hong Kong. Hong Kong Station is located under the IFC building and connects directly to the Tung Chung Line and to Central Station via a short walk. At Kowloon Station, you will find Elements Mall, Ritz Carlton Hong Kong, and the Starwood W Hong Kong Hotel. It is also connected to Austin Station (of the West Rail Line) via foot bridges.
 West Rail Line, connects from Hung Hom Station in Kowloon through to Tuen Mun Station in Tuen Mun. The most popular station on that line is East Tsim Sha Tsui Station where you can visit the Avenue of Stars, I-Square Shopping Mall, K11 Art Mall, the InterContinental Hong Kong, Sheraton Hong Kong, The Peninsula and much more. It also connects to Tsim Sha Tsui Station via underground pedestrian walkways.
 Tsuen Wan Line, connects from Central station on Hong Kong Island to Tsuen Wan station in the New Territories. This line effectively connects Hong Kong Island to Kowloon and runs through the main CBD and the prime shopping strip that is Nathan Road. The most popular stations on this route are Tsim Sha Tsui, Central, Admiralty, Jordan, Yau Ma Tei, and Mong Kok. Around these stations, you will find the shopping and business heart of Hong Kong including malls, markets, restaurants, cafes, attractions.
Island Line is just as the name implies, connecting Kennedy Town in the Central and Western District to Chai Wan in the Eastern District on Kong Kong Island. The most popular stations are Central, Admiralty, Wan Chai, and Causeway Bay. It will connect you to many major shopping areas, malls, and luxury hotels.
East Rail Line connects Hung Hom Station in Kowloon to Lo Wu and Lok Ma Chau Stations which are the border crossings into mainland China.
Tung Chung Line connects Hong Kong Station on the island to Tung Chung on Lantau Island. It almost runs parallel to the Airport Express Line and does connect to the Airport via the S1 route bus. Importantly for tourists, it connects to the Disney Line taking you to Disney World. At Tung Chung Station you will find Citygate Outlets, Ngong Ping Cable Cable Car, and buses that run to Nong Ping Piazza, The Big Buddha and Po Lin Monastery.
MTR Station Maps