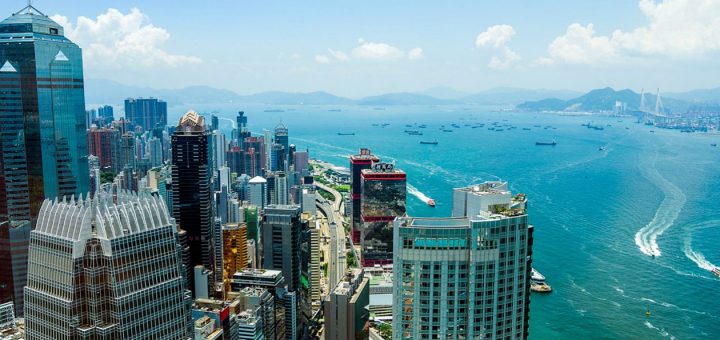 The Guangdong-Hong Kong-Macao Greater Bay Area is an initiative to facilitate greater economic and social integration between key cities in Guangdong Province along with Macau and Hong Kong. The Greater Bay is comprised of the two Special Administrative Regions of Hong Kong and Macao plus nine municipalities located in Guangdong Province being Guangzhou, Shenzhen, Zhuhai, Foshan, Huizhou, Dongguan, Zhongshan, Jiangmen and Zhaoqing.
Quick Facts on the Greater Bay Area
Administrative units: 9 cities + 2 SARs (Special Administrative Regions)
Population: 66.72 million
Combined Area: 56,000 sq. km
Combined GDP: 1.3 trillion USD
The nine mainland cities make up 85% of Guangdong's GDP
The Greater Bay Area accounts for 12% of China's GDP
Three of the worlds top 10 busiest container ports are located in the Greater Bay (Shenzhen, Guangzhou, and Hong Kong)
Overview of the Greater Bay Cities – with links to city guides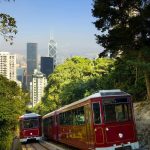 Hong Kong
香港 – An international city, tourist destination, finance hub and highly regarded for its legal expertise and institutions.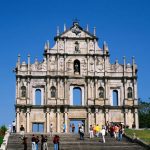 Macau
澳门 – A popular tourist destination for it's unique Chinese/Portuguese heritage and casinos.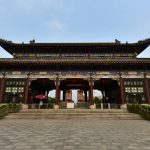 Dongguan
东莞市 – Known for being the "worlds factory" and for its cultural attractions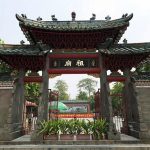 Foshan
佛山市 – Known for ceramics and furniture production it also features cultural and historical attractions inc Bruce Lee's Ancestor's House.
Guangzhou
广州市 – Capital of Guangdong, International trade base, and home to the regions leading cultural & historical attractions.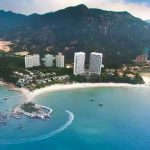 Huizhou
惠州市 – A tourism city, home to the Taoist Luofu Mountain, Pinghai Ancient City, hot spring and beach resorts, and the beautiful Xunliao Bay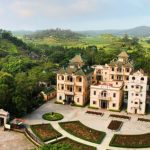 Jiangmen
江门市 – A well-known hometown of overseas Chinese, famous for its Kaiping Diaolou and Villages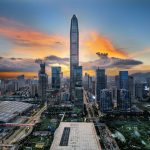 Shenzhen
深圳市 – The gateway of China's opening up and reform, hi-tech industry base, economic powerhouse, and home to the scenic Dapeng Bay coastal area and beaches.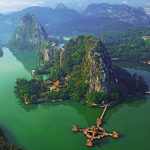 Zhaoqing
肇庆市 – Famous for the beauty and fresh air of nearby Dinghu Mountain, and the Star Lake Scenic Area.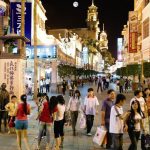 Zhongshan
中山市 – A key manufacturing base that attracts a lot of overseas investment and expats.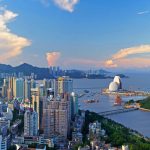 Zhuhai
珠海市 – A tourism city that is known for its long coastline, islands, hot springs. It is also an SEZ with a focus on textiles and electronics.
Transport in the Greater Bay Area
Airports
The region has four major international airports which all have easy transport connections to cities in the GBA (Links to airport transport guides).
The New Foshan Airport is under construction.
High-Speed Intercity Train Routes in the Greater Bay Area
Guangzhou–Shenzhen railway 广深铁路
Guangzhou–Foshan–Zhaoqing intercity railway (Guangfozhao) 广佛肇城际轨道交通
Dongguan–Huizhou intercity railway (Guanhui) 莞惠城际轨道交通
Guangzhou–Zhuhai intercity railway (Guangzhu) 广珠城际
Guangzhou–Foshan circular intercity railway (Guangfo ring) 广佛环城际轨道交通 (under construction)
Foshan–Dongguan intercity railway 佛莞城际轨道交通 (under construction)
Guangzhou–Dongguan–Shenzhen intercity railway (Suiguanshen) 穗莞深城际轨道交通 (under construction)
Guangzhou–Qingyuan intercity railway (Guangqing) 广清城际轨道交通 (under construction)
Zhuhai–Zhuhai Airport intercity railway (Zhuji) 珠机城际轨道交通 (under construction)
Ferry Passenger Ports
Ferries are a convenient and fast way to transfer between airports and the cities of the Greater Bay.
Zhuhai Jiuzhou
Doumen (Zhuhai)
Zhongshan
Shunde (Foshan)
Guangzhou Lianhuashan
Guangzhou Nansha
Jiangmen
Shekou (Shenzhen)
Fuyong (Shenzhen Airport)
Macau (Taipa)
Macau (Outer Harbour)
In Hong Kong
Skypier (Hong Kong International Airport)
Sheung Wan (Hong Kong)
Tuen Mun (Hong Kong)
China Ferry Terminal (Hong Kong)
HK-Macau Ferry Terminal (Hong Kong)
The main ferry operators in Hong Kong
TurboJet provides ferry services between Hong Kong-China Ferry Terminal and Macau that take approximately 55 minutes. And also services between Hong Kong Airport, Shekou, and Macau, Guangzhou (Nansha) turbojet.com.hk
Chu Kong Passenger Transport (CKS) provides ferry services between Hong Kong/Hong Kong Airport and Shenzhen, Dongguan, Guangzhou, Zhongshan, and Zhuhai. cksp.com.hk
Cotai Water Jet provides ferry services between Hong Kong and Macau cotaiwaterjet.com
The Hong Kong–Zhuhai–Macao Bridge
Take a bus from Hong Kong to Zhuhai via the bridges shuttle service (HZMB Bus), a cross-border coach, or taxi. More details here
Cross-Border Coaches Between Mainland and HK/Macau
There are cross-border coaches operated by several companies that have boarding and departure points across many locations in Hong Kong including Hong Kong Airport. They travel to/from cities including Shenzhen, Guangzhou, Foshan, Dongguan, Huizhou, Zhuhai, Macau, Jiangmen and more. Companies include
Intercity Coach
Every city in Guangdong is connected by intercity buses. See the city guide links in the list of Greater Bay cities for more info on stations and routes in each particular city.