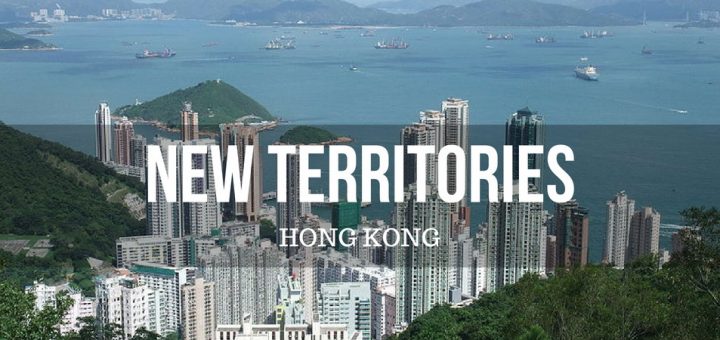 The New Territories makes up 86.2% of Hong Kong's territory, features over 200 outlying islands, wetlands, parks and mountains, numerous major tourist attractions, and is home to over 3.5  million people. It is also where you will find all the land border crossings into mainland China.
Jump to Areas | Localities | Attractions & Things to do | Where to Stay | The Top Restaurants | Border Crossing Points| Neighborhoods & Localities list
A Map Showing New Territories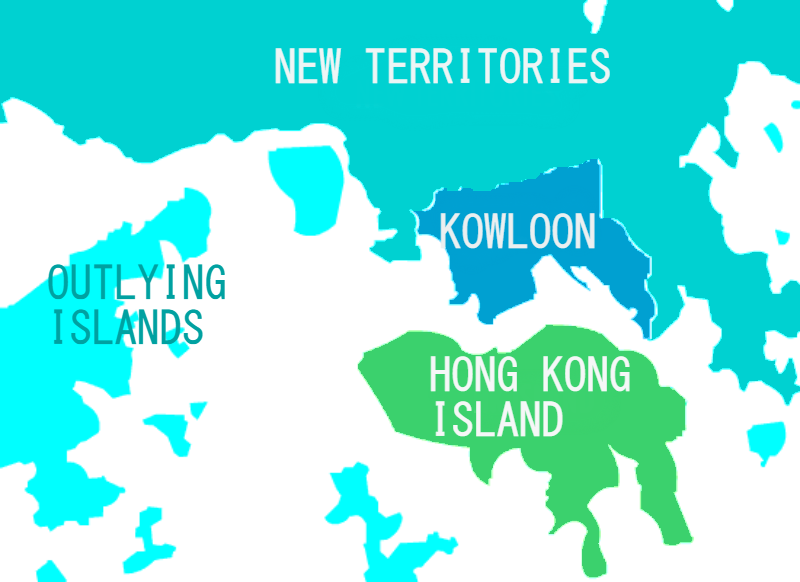 The districts
| District | CN | Pop. | SQM Area | people/SQM |
| --- | --- | --- | --- | --- |
| Islands | 離島區 | 146,900 | 175.12 | 825.14 |
| Kwai Tsing | 葵青區 | 507,100 | 23.34 | 21,503.86 |
| North | 北區 | 310,800 | 136.61 | 2,220.19 |
| Sai Kung | 西貢區 | 448,600 | 129.65 | 3,460.08 |
| Sha Tin | 沙田區 | 648,200 | 68.71 | 9,433.85 |
| Tai Po | 大埔區 | 307,100 | 136.15 | 2,220.35 |
| Tsuen Wan | 荃灣區 | 303,600 | 61.71 | 4,887.38 |
| Tuen Mun | 屯門區 | 495,900 | 82.89 | 5,889.38 |
| Yuen Long | 元朗區 | 607,200 | 138.46 | 4,297.99 |
Within those districts are numerous neighborhoods, or localities which I will list at the bottom of the page. The main areas that you are likely to spend time in are
Lantau Island – Home to the airport, Tian Tan Buddha, Nong Ping 360, Disneyland, Tai O, and much more.
Lamma Island – A laid back car-free island know for arts/crafts.
Lo Wu – A major land border to mainland China (on the Chinese side it is called Louhu)
Lok Ma Chau – The border crossing to Futian District of Shenzhen – Mainland China.
Fanling & Sheung Shui – the most populated area and home to a major mall
Tuen Mun – home to several attractions inc. Lung Kwu Tan Village, Tuen Mun Park, Tuen Mun Town Centre featuring many large malls, Castle Peak Bay, Golden Beach, and Hong Kong Gold Coast resort.
Top attractions and things to see in the New Territories
Hong Kong Disneyland
If you are a Disney fan, or you have kids, then you'd better add this to the list. It's everything you'd expect from Disney but keep in mind it's very tailored to the main visitor which is, of course, local Chinese.
Address: Hong Kong Disneyland, Lantau Island, Outlying Islands (take the MTR to MTR Disneyland Resort Station)
Web: www.hongkongdisneyland.com
Tickets: Starting from HK$ 619
Hours: 10:00 AM to 9:00 PM (please check park website as hours change)
Noah's Ark Hong Kong
Features 67 life-sized animal sculptures, 4D cinema, Solar Telescope, treasure house with games, and eco-education activities/displays.
Address: 33 Pak Yan Road, Ma Wan, New Territories
Web: www.noahsark.com.hk
Ticket: Adult HK$ 168 Child (3-11) HK$ 138
Hours: 10:00 – 6:00 pm
The Big Buddha and Po Lin Monastery
Located among the scenic beauty of Lantau Island, the bronze Big Buddha stands at 34 meters tall overlooking all. Po Lin Monastery is the center of Buddhism in Hong Kong and also features a popular restaurant.
Address: Ngong Ping, Lantau Island (bus 23 from Tung Chung Town Center or the Ngong Ping 360 cable car)
Web: www.plm.org.hk
Ticket: Free – Exhibition Halls HK$ 30 to 78 inc meal at the restaurant.
Hours: 8 am to 6 pm
Ngong Ping 360
A 25-minute cable car journey taking in amazing coastal views as you head to the Ngong Ping themed village.
Address: Ngong Ping, Lantau Island, Outlying Islands
Web: www.np360.com.hk
Ticket: Standard Cabin Round Trip for Adult HK$ 210 Note: visit the website as there are multitudes of offers.
Hours: Mon-Fri 10:00am – 6:00pm Sat-Sun and Public holidays 9:00am – 6:30pm
Temples
Che Kung Temple at Sha Tin
Che Kung Miu also called Che Kung Temple, are temples dedicated to Che Kung, who was a general during the Southern Song Dynasty (1127–1279) in ancient China.
Address: 7 Che Kung Miu Rd, Tai Wai (Che Kung Temple Station on the Ma On Shan Line)
Hours: 7:00 am – 6:00 pm
Web: www.ctc.org.hk
Che Kung Temple at Ho Chung
As per the above, this temple dates back to the early Ming Dynasty.
Address: Ho Chung Village, Sai Kung, Hong Kong
Ching Chung Koon
A large and beautiful Taoist temple that also features several ancient imperial relics.
Address: 8 Tsing Chung Path, Tuen Mun (Siu Hong Station or Tuen Mun Station on the West Rail Line)
Hours: 11:30 am–4:30 pm
Fung Ying Seen Koon
A Taoist temple that's highly regarded for its architecture.
Address: 66 Pak Wo Rd, Fanling
Hours: 8 am–5 pm
Hung Shing Temple at Kau Sai Chau, Sai Kung
Originally built in 1889 and situated on Kau Sai Chau (Island), Sai Kung.
Address: Sai Kung Estate, Sai Chau, New Territories
Hours: 6 am to 6 pm
Tin Hau Temple at Lam Tsuen
The temple is famed for its two wishing trees and was built during the reign of Emperor Qianlong (1736–1796).
Address: Lam Tsuen, Hong Kong
Hours: 9 am–4:30 pm
Yuen Yuen Institute
Yuen Yuen Institute was founded to spread the principles of Confucianism, Buddhism, and Taoism.
Address: Sam Dip Tam, Tsuen Wan, New Territories (MTR Tsuen Wan Station)
Hours: 8:30 am – 5 pm
Golden Flower Shrine
Located on the island of Peng Chau the shrine sits under a Banyan tree and was built in honor of the Lady Golden Flower aka Goddess KamFa.
Address: Inside the lane adjacent to Wing On Street, Peng Chau
Kwan Kung Pavilion
Kwan Kung Pavilion is a temple on Cheung Chau island and is dedicated to the god of war and wealth Kwan Tai.
Address: Kwun Yam Wan Rd, Cheung Chau
Lung Mo Temple
The Dragon Mother's temple on Peng Chau island. Lung Mo is a goddess of water.
Address: 15 Chi Yan Street, Tung Wan, Peng Chau, Outlying Islands
Pak Tai Temple at Cheung Chau
A Taoist temple built 200 years ago in traditional style.
Address: Pak She St, Cheung Chau, Hong Kong
Seven Sisters Temple
People come here to pray for fertility.
Address: Pak Wan, Peng Chau, Outlying Islands
Tin Hau Temple at Sai Wan
200-year-old temple dedicated to the Goddess of the Sea.
Address: Tin Hau Temple, Sai Wan, Cheung Chau, Outlying Islands
Tin Hau Temple at Yung Shue Wan
East meets West at this Lamma Island temple.
Address: Tin Hau Temple, Yung Shue Wan, Lamma Island, Outlying Islands
Heritage
Cheung Po Tsai Cave
The hiding place of the famous pirate of the South China Sea, Cheung Po Tsai.
Address: Cheung Po Tsai Road, Cheung Chau
Kat Hing Wai Walled Village
An ancient Hakka village that dates back to the Ming Dynasty.
Address: Kam Tin, Yuen Long, New Territories
Tai Fu Tai Mansion
An opulent ancient family home dating back to the Qing Dynasty.
Address: Wing Ping Tsuen, San Tin, Yuen Long, New Territories
Lai Chi Wo
A 400-year old Hakka village within the Geopark area.
Address: Plover Cove (Near Yan Chau Tong Marine Park), Sha Tau Kok, New Territories
Jao Tsung-I Academy
Once a customs station during the Qing Dynasty, the cluster of historic buildings have served many purposes and now are open to the public with tea house, cafe, and guest rooms.
Address: 800 Castle Peak Road, Sham Shui Po
Web: www.jtia.hk/en/
Kamikaze Cave
A Japanese hideout from WWII.
Address: Sok Kwu Wan, Lamma Island
Tai O Heritage Hotel
A former colonial-era police station that has been converted into a heritage hotel with colonial style rooms, and rooftop restaurant.
Address: Shek Tsai Po Street, Tai O, Lantau Island
Web: taioheritagehotel.com
Museums
Art Museum, CUHK
A showcase of the rich arts, humanities, and cultural heritage of ancient and pre-modern China
Address:  Sha Tin, New Territories
Web: cuhk.edu.hk/ics/amm/
Hours: Mon – Saturdays 10:00 am – 5:00 pm. Closed Thursday. Sundays and Public Holidays 1:00 – 5:00 pm
The Hong Kong Heritage Museum
Featuring 12 different galleries with permanent and special exhibitions that are focussed on early heritage.
Address: 1 Man Lam Road, Sha Tin, Hong Kong
Web: heritagemuseum.gov.hk/../
Sam Tung Uk Museum
A 200-year-old restored Hakka village.
Address: 2 Kwu Uk Ln, Tsuen Wan
Web: lcsd.gov.hk/CE/…
Hours: Monday, Wednesday to Sunday – 10 am to 6 pm
Sheung Yiu Folk Museum
Another ancient Hakka village.
Address: Pak Tam Chung Nature Trail, Sai Kung
Web: heritagemuseum.gov.hk/..
Hong Kong Railway Museum
Featuring old coaches and models.
Address: 13 Shung Tak St, Tai Po
Web: heritagemuseum.gov.hk/../
Hours: Monday, Wednesday to Sunday 10 am to 6 pm
Parks
Hoi Ha Wan Marine Park
A large sheltered bay that is becoming more and more popular with swimmers and divers who want to explore the picturesque coral and mangroves.
Address: Hoi Ha Wan, Sai Kung
Web: afcd.gov.hk/…
Hong Kong UNESCO Global Geopark
A massive coastal area packed with uniques land formations from the prehistoric volcanic times. You can take boat tours, visit discover centers, or take on hiking trails.
Address: East and Northeast New Territories
Web: geopark.gov.hk
Hong Kong Wetland Park
The Hong Kong Wetland Park is a world-class conservation, education and tourism facility. It demonstrates the diversity of the Hong Kong's wetland ecosystem
Address: Wetland Park Rd, Tin Shui Wai
Web: wetlandpark.gov.hk/en/
Hours: 10:00 am – 5:00 pm Closed Tuesdays
Tickets: HK$ 30 with concession tickets available
Kadoorie Farm & Botanic Garden
Featuring beautiful gardens, organic farming, exotic animals and relics of bygone farming.
Address: Lam Kam Road, Tai Po, New Territories
Web: kfbg.org/eng/
Hours: 9:30 am – 5:00 pm
Mai Po Nature Reserve
A refuge for winter migrating birds
Address: Mai Po, Yuen Long, New Territories
Website: wwf.org.hk
Hiking Trails
Lung Yeuk Tau Heritage Trail
A route that takes you through ancestral halls, temples, and relics of the Tang family, one of Hong Kong's most powerful clans.
Address: Fanling, New Territories
Details: discoverhongkong.com/..
Ping Shan Heritage Trail
A trail that leads through ancient ancestral halls, temples, and more dating back to the Yuan dynasty (1271–1368).
Address:  Ping Shan, Yuen Long
Details: discoverhongkong.com/..
Where to stay in the New Territories
New Territories is a large region especially when you include all the islands that come under its administration, so, It really depends on your chosen activities and what will be convenient. I will highlight some of the key areas and the picks for places to stay.
Tsuen Wan
L'hotel Nina et Convention Centre – A new 77-floor five-star hotel that offers great value and great views. Rooftop pool, 2 restaurants, and gym.
Lantau Island
Auberge Discovery Bay Hong Kong – The four-star hotel is located on Discovery Bay and offering beautiful scenery. Its a great alternative to the concrete jungles of HK. Features spa, pool, gym and restaurants.
Novotel Citygate Hong Kong – the four-star hotel offers free shuttle to the nearby airport. MTR access to the Tung Chung Line making it easy to travel to Disneyland and beyond. Lots of shopping, dining, and Nong Ping 360/Giant Buddha are just nearby.
Tai O Heritage Hotel – A four-star hotel located within a colonial heritage building it offers a chance to experience the early days of Hong Kong settlement. Its also at Tai O village which is becoming a popular attraction for its fishing village lifestyle.
Ma Wan Island
Noah's Ark Resort – Attached to the theme park of the same name there is also a beach nearby and the hotel offers some nice nighttime views. For eco-lovers, this could be the one.
Lamma Island
Bali Holiday Resort – super clean holiday home that overlooks the beach and village.
Sha Tin
Hyatt Regency Hong Kong – great value five-star brand name hotel. Out of the concrete jungle and offering some nice nature views. Good gym, spa, pool, 2 restaurants and 2 bars onsite. MTR station nearby but they also offer a free shuttle bus.
Best restaurants in the New Territories
Sha Tin 18 沙田18 – Guangdong Style
4/F, Hyatt Regency Hong Kong Sha Tin, 18 Chak Cheung Street, Sha Tin
$201-400
Shing Kee Noodles 盛記盆菜&盛記麵家
Shop 5, Lek Yuen Estate Market, Sha Tin
$101-200
E Pot 一鍋堂 –  Stir-Fry/ Hot Pot
11/F, Tai Hung Fai (Tsuen Wan) Centre, 55 Chung On Street, Tsuen Wan
$101-200
Dab-pa Peking & Szechuan Bistro 稻成小館 – Sichuan/ Stir-Fry
Shop 2162, 2/F, Phase 1, Tuen Mun Town Plaza, 3 Tuen Lung Street, Tuen Mun
$101-200
Din Tai Fung 鼎泰豐
Shop 166, 1/F., New Town Plaza Phase 1, 18 Sha Tin Centre Street, Sha Tin
$101-200
Border Crossings (Hong Kong/Shenzhen – Mainland China) within the New Territories
Name
Description
Open time
(*peak times)
 Lo Wu
The major land boundary control point, with a purpose-built Visitor Clearance Hall. During peak hours, the waiting time for clearance is longer, especially during peak travel seasons, holidays and weekends.
6:30 am to midnight
(*9:00 am to 12:30 pm, 5:00 pm to 7:30 pm)
Hung Hom
Shorter waiting time for entry.
6:30 am to 11:45 pm
(*10:30 am to 2:00 pm)
Lok Ma Chau
The busiest land boundary control point for cross-boundary vehicles such as Lok Ma Chau-Huanggang Cross Boundary Shuttle Buses, cross-boundary coaches, cross-boundary goods vehicles and cross-boundary private vehicles, etc. Normally, the waiting time for clearance is longer, especially during peak travel seasons, holidays and weekends.
24 hours
(*8:00 am to 12:00 noon,
5:00 pm to 8:00 pm)
Lok Ma Chau Spur Line (traveling by MTR)
During peak hours, the waiting time for clearance is longer, especially during peak travel seasons, holidays and weekends.
6:30 am to 10:30 pm
(*9:00 am to 12:00 noon)
Man Kam To
Shorter waiting time for entry.
7:00 am to 10:00 pm
(*9:00 am to 1:00 pm,
6:00 pm to 8:00 pm)
Sha Tau Kok
Light passenger traffic. Chosen by fewer passengers.
7:00 am to 10:00 pm
(*9:00 am to 11:00 am,
6:00 pm to 7:00 pm)
A full list of Neighborhoods and localities in the New Territories