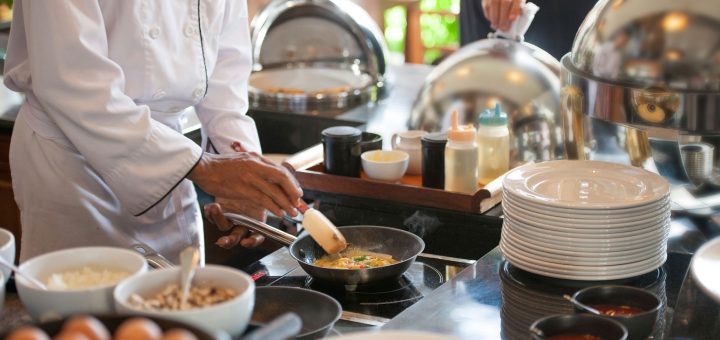 Hong Kong is not a city for early birds, people are slow to get going and like to ease their way into the day. Malls and many attractions don't open until later in the morning, so why stress? Sleep in and enjoy breakfast at the hotel and start the day in style.
These are ranked by past visitor review scores which is a combination of location rating and overall satisfaction.
The Top Five Hong Kong Hotels with Breakfast
Here are my top five picks based on offering a great breakfast, and overall value for money.
4-star hotel Off-peak prices from $90USD Breakfast Included
Easy MTR access in HK is a godsend and this hotel has it, Sai Ying Pun MTR station is just steps away. The hotel is in a quite location and features large rooms by HK standards, plus foodies will love that there are lots of restaurants in the surrounding streets.
---
4-star hotel Off-peak prices from $93USD Breakfast Included on some rooms
You will not go hungry at the Regal Riverside with 10 restaurants waiting for you. Try starting at the international buffet then taste some Italian or explore the orient through fine Chinese specialties and Japanese favorites. You can also enjoy the Carnival Bar and in-between that keep yourself topped up with coffee and bakery treats from Regal Patisserie. To burn it all off, there's a swimming pool, spa, sauna, fitness centre and massage just to top it all off.
---
3-star hotel Off-peak prices from $89USD free breakfast included on some offers
This hotel offers a very convenient location in Yau Ma Tei very near to the MTR station of the same name. The area of Yau Ma Tei and adjoining Mong Kok are the prime shopping areas also featuring loads of restaurants and lots of local food stalls that shouldn't be missed. Although the hotel has easy access to the prime shopping areas it is set back enough from the action to offer peace and quite.
---
5-star hotel Prices from $299USD with breakfast
Here is an amazing luxury hotel option which features rooms with some of the best views over Hong Kong's Victoria Harbour. It offers award winning dining including buffet restaurant options that will make the most mild mannered gentleman drool with delight. The hotel also features fitness centre and heated pool along with it's prime and convenient location.
---
4-star hotel Rates from $65USD – Breakfast available
I think this is one of HK's best kept secrets for value. A superb location just steps away from MTR Sai Ying Pun Station, the hotel offers large rooms by Hong Kong standards. The breakfast at the on-site restaurant consistently receives great reviews.
---
30 More Hotels in Hong Kong that offer Breakfast
4-star hotel
---
4-star hotel
---
4-star hotel
---
3-star hotel
---
3-star hotel
---
4-star hotel
---
3-star hotel
---
4-star hotel
---
3-star hotel
---
4-star hotel
---
4-star hotel
---
3-star hotel
---
3-star hotel
---
4-star hotel
---
5-star hotel
---
3-star hotel
---
4-star hotel
---
4-star hotel
---
4-star hotel
---
4-star hotel
---
4-star hotel
---
4-star hotel
---
4-star hotel
---
4-star hotel
---
4-star hotel
---
4-star hotel
---
4-star hotel
---
4-star hotel
---
4-star hotel