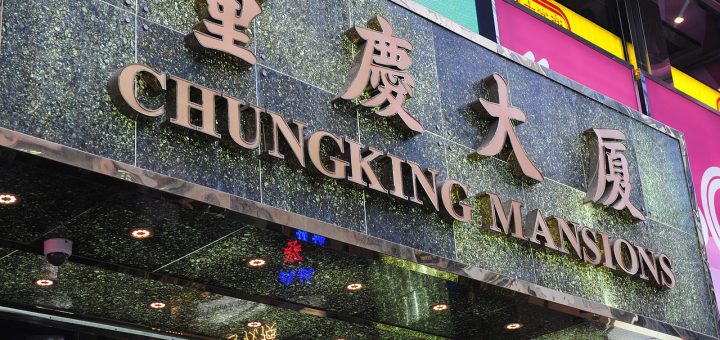 Chungking Mansions is located in a prime position on Nathan Road, just minutes walk to Tsim Sha Tsui MTR Station. It's across the road from iSquare Shopping Mall, and the Ladies Market and Temple St Night Market are also nearby. It's also just a short walk, or bus ride, to Victoria Harbour, the Star Ferry, the Space Museum and the luxury shopping on Canton Rd. There's a map location at the bottom of the page.
Chungking Mansions is a little unusual in that is one huge building full of independent hostel operators and at last count, there are nearly 100. On the lower floors you'll find several stores selling phone cards, doing currency exchange services, and selling imported foods such as Indian spices mainly to the local Indian population.
Some may find the street entry a little offputting, it hasn't been renovated in a while, if ever, and has a somewhat seedy feel to it. But I have never had nor heard of any bad experiences bar persistent sales people trying to sell suits and knock-off watches.
For me, I find the place to be full of character, and the location is hard to beat, plus the fact that this is some of the cheapest accommodation in Hong Kong.
Hong Kong is not huge and space is a valuable resource, hotel rooms, even at expensive hotels, are not big. In hostels, they maximize the use of every piece of space available. Some rooms are only big enough for the bed and you may need to store extra luggage securely with the manager. Some rooms may have private shower, most will not and there is a common shower. Remember, these rooms are normally 1/4 of the price of a standard HK hotel room, so the Hilton it ain't.
If you can pick a room, try to pick one away from the Nathan Road side as traffic goes all night. All rooms have air-con, and most rooms also have a fan, a simple trick is to turn the fan on to dampen outside noise. Or, get some earplugs from one of the many downstairs pharmacies.
Here is the list of all the hostels within Chungking Mansions
Ordered from highest past visitor review to lowest past visitor review scores. Follow the links to compare the latest rates and offers.
1 stars
---
1 stars
---
1 stars
---
1 stars
---
1 stars
---
1 stars
---
1 stars
---
1 stars
---
1 stars
---
1 stars
---
1 stars
---
1 stars
---
1 stars
---
1 stars
---
---
1 stars
---
---
1 stars
---
1 stars
---
1 stars
---
1 stars
---
1 stars
---
1 stars
---
1 stars
---
1 stars
---
1 stars
---
1 stars
---
---
1 stars
---
---
1 stars
---
---
---
1 stars
---
1 stars
---
1 stars
---
1 stars
---
1 stars
---
1 stars
---
1 stars
---
1 stars
---
1 stars
---
1 stars
---
---
1 stars
---
1 stars
---
---
1 stars
---
1 stars
---
1 stars
---
1 stars
---
---
---
---
---
1 stars
---
1 stars
---
---
1 stars
---
1 stars
---
1 stars
---
1 stars
---
1 stars
---
1 stars
---
1 stars
---
1 stars
---
1 stars
---
1 stars
---
---
1 stars
---
1 stars
---
1 stars
---
1 stars
---
---
1 stars
---
1 stars
---
---
1 stars
---
1 stars
---
---
1 stars
---
---
1 stars
---
1 stars
---
1 stars
---
1 stars
---