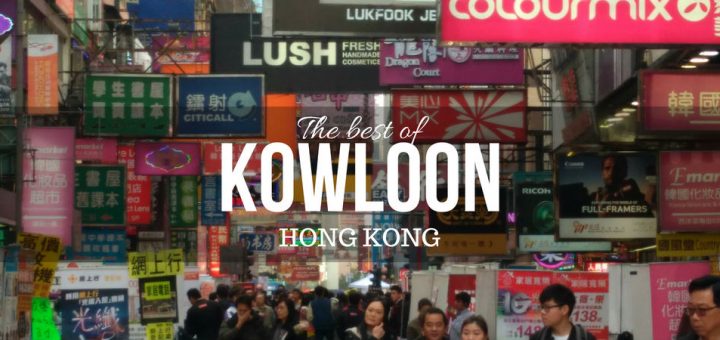 Kowloon is one of the major districts in Hong Kong and anybody visiting the city is likely to spend a lot of time there, so let's get to know Kowloon a little better.
Jump to Areas | Localities | Attractions & Things to do | Where to Stay | The Top Restaurants | Markets | Spa & Massage | Nightlife
Hong Kongs Four Major Areas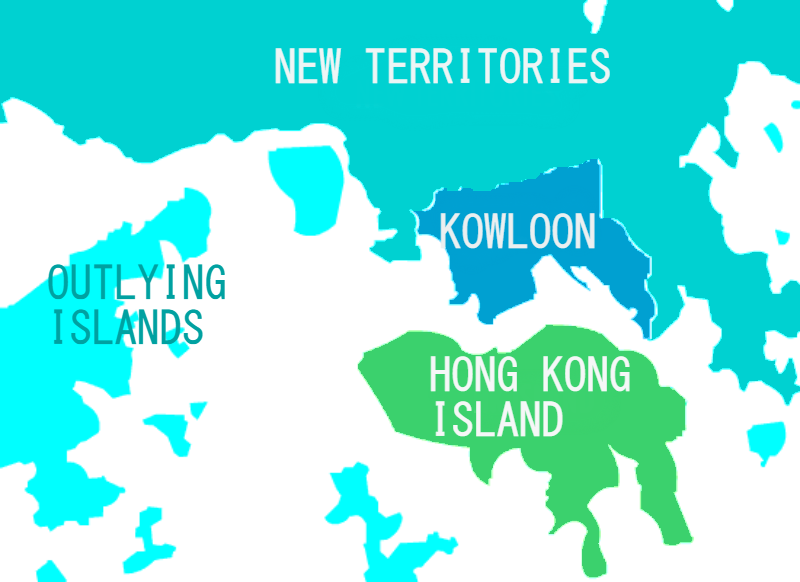 The Subdistricts of Kowloon
Kowloon is first broken into 5 administrative levels being
| District (EN) | CN | Pop. | Area km2 | People per km2 |
| --- | --- | --- | --- | --- |
| Sham Shui Po | 深水埗區 | 390,600 | 9.35 | 41,529.41 |
| Kowloon City | 九龍城區 | 405,400 | 10.02 | 40,194.70 |
| Kwun Tong | 觀塘區 | 641,100 | 11.27 | 56,779.05 |
| Wong Tai Sin | 黃大仙區 | 426,200 | 9.30 | 45,645.16 |
| Yau Tsim Mong | 油尖旺區 | 318,100 | 6.99 | 44,864.09 |
Although, for most travelers and visitors those names won't mean much and they will be more interested in the localities of which there is 32. The main ones that you'll hear again and again, and likely spend a lot of time in are
Tsim Sha Tsui – facing the Victoria Harbour it's home to some of the city's major attractions including Hong Kong Museum of Art, Hong Kong Cultural Centre, Hong Kong Space Museum, Avenue of Stars, Canton Road (luxury brand shopping), Star Ferry Terminal, Harbour City Shopping Mall and much more.
Jordon – Along Nathan Road, you'll find store after store, loads of popular restaurants such as the Australian Dairy Company, but the main attraction here is the Temple Street Night Market.
Yau Ma Tei – is a massive area but known mostly for its shopping offerings along Nathan Road and surrounding streets. It's also home to Tin Hau Temple, Yau Ma Tei Theatre, the historic Yau Ma Tei Police Station, and Shanghai Street for its wholesale kitchenware.
Mong Kok – is the prime shopping district in Hong Kong featuring Fa Yuen Street, Sai Yeung Choi Street, Ladies' Market, the Flower Market, Goldfish Market, and Langham Place Shopping Mall.
Top attractions and things to see in Kowloon
Kowloon Walled City Park
Once a garrison in the Qing Dynasty days it became a high-rise enclave of crime and hardship intertwined into a tight community, the are was later demolished and converted into a large park.
Address: Tung Tsing Road, Kowloon City, Kowloon
Star Ferry
An icon of Hong Kong and the best value way to cross from Hong Kong Island to Kowloon. They also offer scenic cruises.
Address: Star Ferry Pier, Tsim Sha Tsui, Kowloon Web: www.starferry.com.hk
A Symphony of Lights
The 8 pm nightly light show that illuminates the bayfront towers and Victoria Harbour.
Address: You can watch the show from Tsim Sha Tsui Promenade, Golden Bauhinia Square, from a cruise boat, or from a high-rise with harbour views. Tickets: No ticket required Hours: Nightly at 8 pm for 15 min.
Tsim Sha Tsui Promenade
Go for a stroll along the waterfront, admire the amazing towers of Central, and the boats passing by.  Start at the Clock Tower and wind around past the museums and you'll be at the Avenue of Stars.
Address: Tsim Sha Tsui, Kowloon Hours: always open Ticket: free
Avenue of Stars
Celebrating HongKong's film industry through statues, and handprints. (note: reopens late 2018)
Web: www.avenueofstars.com.hk
Clock Tower
Once the old train station, now it's a landmark of Hong Kong's colonial heritage. No ticket required, take it in prior to visiting the Promenade and the Avenue of Stars.
Address: Star Ferry Pier, Kowloon Point, Tsim Sha Tsui, Kowloon
Ocean Terminal Deck
An observatory deck that offers panoramic views of Victoria Harbour. Great sunset spot.Address: Ocean Terminal Deck, Harbour City, Tsim Sha Tsui
Web: www.harbourcity.com.hk Ticket: free Hours: 07:00 am – Midnight
sky100 Hong Kong Observation Deck
Head up to the 100th floor of Hong Kong's tallest building, the ICC. Enjoy views of the harbour and beyond.
Address: 100/F International Commerce Centre, 1 Austin Road West, Kowloon  Web: www.sky100.com.hk
Ticket: HK$ 188 – go online for HK$ 169 tickets, and discounts for children and seniors and discounted nighttime couples tickets. Hours: Sun-Thu 10:00 am – 9 pm Fri-Sat 10:00 am – 10:30 pm
Temples
Shing Wong Temple
Traditional 1877 temple dedicated to the worship of Shing Wong, the deity who watches over cities.
Address: Temple Street, Hong Kong
Chi Lin Nunnery and Nan Lian Garden
Chi Lin Nunnery is a large Buddhist temple complex located in Diamond Hill, Kowloon, Hong Kong. It was founded in 1934 as a retreat for Buddhist nuns and was rebuilt in the 1990s following the traditional Tang Dynasty architecture.
Address: 5 Chi Lin Dr, Sheung Yuen Leng, Hong Kong Web: www.chilin.org
Hau Wong Temple
Believed to have been built in 1730,  it features a wealth of cultural artifacts including Shek Wan pottery and Chinese calligraphy.
Address: 130 Junction Rd, Pak Hok Shan, Hong Kong
Tin Hau Temple at Yau Ma Tei
A temple built for the Goddess of the Sea, in the middle of the city.
Address: 56-58 Temple St, Yau Ma Tei, Hong Kong
Wong Tai Sin Temple
A Taoist, Buddhist and Confucian temple honoring a legendary monk. Wong Tai Sin Temple is a major tourist attraction in Hong Kong.
Address: 2 Chuk Yuen Village, Wong Tai Sin, Kowloon Web: www.siksikyuen.org.hk
Heritage
1881 Heritage
Step back into the Victorian-era at the former Marine Police Headquarters now converted into a luxury shopping and dining precinct. It's also the site of an exhibition hall, the Time Ball Tower, Former Fire Station and Stable Blocks.
Address: 2A Canton Road, Tsim Sha Tsui, Kowloon Web: 1881heritage.com
Antiquities and Monuments Office
A Victorian-era English school now used for government offices.
Address: 136 Nathan Road, Tsim Sha Tsui, Kowloon
Jao Tsung-I Academy
Once a customs station during the Qing Dynasty, the cluster of historic buildings have served many purposes and now are open to the public with tea house, cafe, and guest rooms.
Address: 800 Castle Peak Road, Sham Shui Po Web: www.jtia.hk/en/
Lui Seng Chun
A restored historical building from the colonial era. Ground floor is open to the public.
Address: 119 Lai Chi Kok Road, Mong Kok, Kowloon
The Peninsula
A landmark historic building in the city it is occupied by one of the cities most highly regarded luxury hoteliers. You won't miss the signature green Rolls Royce Silver Shadows (there is a fleet of 14) parked out front and it's also incredibly popular (booking required) for its classically British Afternoon Tea offering.
Address: Salisbury Road, Tsim Sha Tsui, Kowloon Web: hongkong.peninsula.com
SCAD Hong Kong
Once a magistry, the building serves as an education center for arts and design.
Address:292 Tai Po Road, Sham Shui Po, Kowloon
St Andrew's Church
The Victorian-gothic style church has been standing for over 100 years.
Address:138 Nathan Road, Tsim Sha Tsui, Kowloon Web: standrews.org.hk
Yau Ma Tei Theatre
The only remaining pre-war cinema, now listed as a heritage building and serving as a Chinese opera house.
Address: 6 Waterloo Road, Kowloon Web: lcsd.gov.hk/en/ymtt/
Museums
Hong Kong Housing Authority Exhibition Centre
Featuring a range of displays and models showcasing the efforts in urban planning and housing.
Address: 4/F, Block 3, 80 Fat Kwong Street, Ho Man Tin, Kowloon Web: housingauthority.gov.hk/..
Heritage of Mei Ho House
A museum that traces the beginning and evolution of public housing in HK.
Address: Block 41, Shek Kip Mei Estate, Sham Shui Po
Web: yha.org.hk/en/../ Hours: 9:30 am to 5:00 pm closed on Mondays
The Hong Kong Heritage Discovery Centre
A restored military barracks that now showcases Hong Kong heritage.
Address: Kowloon Park, Haiphong Road, Tsim Sha Tsui Web: amo.gov.hk/en/..
The Hong Kong Museum of History
Not to be missed, covering Hong Kong and South China history.
Address: 100 Chatham Rd S, Tsim Sha Tsui, Hong Kong Web: hk.history.museum Hours: Monday, Wednesday to Friday: 10 am – 6 pm. Saturday, Sunday and public holidays: 10 am – 7 pm. Closed on Tuesdays.
Hong Kong Science Museum
A large range of educational and fun displays.
Address: 2 Science Museum Road, Tsim Sha Tsui East
Web: hk.science.museum/.. Hours: Monday, Tuesday, Wednesday, Friday: 10 am – 7 pm Saturday, Sunday and public holidays: 10 am – 9 pm Ticket: Adult HK$ 20
Hong Kong Space Museum
Featuring planetarium, hall of space science, and space theatre.
Address: 10 Salisbury Rd, Tsim Sha Tsui Web: lcsd.gov.hk/..
Parks
Kowloon Park
Featuring a playground, sports center (with pool), Chinese garden, aviary and bird lake.
Address: 22 Austin Road Web: lcsd.gov.hk/en/parks/kp/ Hours: 5:00 am to midnight, while some sections open early and close earlier.
City Walks
A Popular Temple and a City Transformed
Immerse yourself in Hong Kong's most popular temple in Wong Tai Sin and wander through the remnants of Kowloon City — an infamous walled city. Details: discoverhongkong.com/..
Cornucopia of Delights
All the pleasures of Hong Kong in the neighborhood of Tsim Sha Tsui. Details: discoverhongkong.com/..
Markets for Leisure and Pleasure
Dive into some of the world's most fascinating street scenes in Yau Ma Tei and Mong Kok. Details: discoverhongkong.com/..
Where to stay in Kowloon
To be honest, there are so many options and my biggest suggestion is no matter your budget to choose somewhere near an MTR station. It will make your time in HK a breeze. So in reality, that means something along Nathan Road and its nearby streets, and close to either Tsim Sha Sui Station, Jordon Station, Yau Ma Tei Station, Mong Kok Station or Prince Edward Station.
One of my favorite places to stay in Hong Kong is the Metropark at Mongkok, it's reasonably priced with large rooms, great food nearby, and right at the MTR station.
For budget offerings, I would choose a hostel at Mirador Mansion, and for something a tad cheaper maybe a hostel Chungking Mansions.
For luxury and five-star, the Penninsula is the two top pick and for value five-star luxury near an MTR station in Kowloon its the Cordis at Mongkok. If you are chasing harbour views try the Sheraton or if a bit of walk to one the MTR stations listed earlier doesn't worry you, then The Ritz Carlton or the Kowloon Shangri-La.
Best restaurants in Kowloon
Hong Kong has a plethora of high-quality restaurants serving International cuisines, perhaps even some of the best in the world as the city seems to attract top chefs from around the globe, there is no doubt that this is a foodies city. Although did you come to HK to experience that? The local Cantonese cuisine is not to be missed and with that in mind, I am going to focus this list on local Chinese/Cantonese offerings.
If you want to know where locals eat, these are where you'll find them. In droves, most likely, so try to beat the lunch hour and dinner hour rush.
The Top Restaurants in Kowloon
Running Chicken 米走雞 – Hong Kong Style Hot Pot
2/F, The Lamma City, 761 Nathan Road, Mong Kok
$101-200
Market Hotpot 鮮入圍煮 – Guangdong Style Hot Pot
2/F, Dundas Square, 43H Dundas Street, Mong Kok
$201-400
Hungry Bird 肚餓了串燒烤焗專門店 – Upmarket Hong Kong Street Food
6/F, 17-19 Ashley Road, Tsim Sha Tsui
$101-200
Imperial 御膳 – Chinese mixed region cuisine
Flat F, 12/F, King Win Factory Building, 65-67 King Yip Street, Kwun Tong
$201-400
NOM NOM DUMPLING 餃掂手工餃子雲吞專門店 – Dumplings
G/F., NO. 30 Boundary Street, Prince Edward
Below $50
The Top Cha Chaan Teng – Hong Kong Tea Restaurants in Kowloon
Australia Dairy Company 澳洲牛奶公司
G/F, 47-49 Parkes Street, Jordan
Below $50
Mrs Tang Cafe 華嫂冰室
Shop 1, King Palace Plaza, 55 King Yip Street, Kwun Tong
Below $50
Fo Shui Lo 火水爐冰室火鍋
1/F, Legend Court, 33 Yin Chong Street, Mong Kok
$101-200
Kam Wah Cafe 金華冰廳
G/F, 47 Bute Street, Prince Edward
Below $50
Star Cafe 星座冰室
Shop No. 36, Champagne Court, 16-20 Kimberley Road, Tsim Sha Tsui
Below $50
The Top Dim Sum Restaurants in Kowloon
Chateh 百樂小館 – Dim Sum
Shop 405, L4, FoodLoft, Mira Place One, 132 Nathan Road, Tsim Sha Tsui
$201-400
Yum Cha 飲茶 – Dim Sum
3/F, Attitude on Granville, 20-22 Granville Road, Tsim Sha Tsui
$101-200
Lo Dim 老點點心竹筒飯 – Dim Sum
Shop A, G/F, Lisa House, 12-14A Yim Po Fong Street, Mong Kok
$51-100
The Graces Restaurant 玉桃軒酒家 – Dim Sum
6/F, Crocodile Center, 79 Hoi Yuen Road, Kwun Tong
$101-200
Cloudland Chinese Cuisine 雲來軒
1/F, Wah Fung Building, 17-23 Minden Avenue, Tsim Sha Tsui
$201-400
Markets in Kowloon
Temple Street Night Market read more
Temple Street, Yau Ma Tei, Kowloon
Ladies Market read more
Tung Choi Street, Mongkok, Kowloon
Fa Yuen Street (Sneakers Street)
Fa Yuen Street, Mong Kok, Kowloon
Jade Market and Jade Street
Kansu and Battery streets, Yau Ma Tei, Kowloon
Mong Kok Computer Market read more
8 Nelson St, Mong Kok
Flower Market
Flower Market Road, Prince Edward, Kowloon
Yuen Po Bird Market
Yuen Po Street, Prince Edward, Kowloon
Goldfish Market
Tung Choi Street North, Mong Kok, Kowloon
More on markets here at top 16 markets in Hong Kong which has some more detail and opening hours.
The best spa's in Kowloon
The area abounds with luxury spas for massage, beauty, and all kinds of "wellness journeys", and, you'll find the best of the best inside the top luxury hotels which I will go on to list. At most of these, the average hourly rate is around $1000 to 1500 HKD per hour (and up). These establishments also have numerous amenities where use is included in your visit, such as a steam room, jacuzzi, gym, pool, lounge, etc.
I-Spa at the Intercontinental
Intercontinental Hong Kong – 18 Salisbury Road, Kowloon
The Peninsula Spa
The Penninsula – Salisbury Road, Kowloon
[Amazing Views] The Ritz-Carlton Spa
116/F, The Ritz-Carlton, International Commerce Centre, 1 Austin Road West, West Kowloon
Chuan Spa at Langham Place
Langham Place Cordis Hotel – 555 Shanghai Street, Mongkok, Kowloon
[Best Value] MiraSpa
Mira Place, 118-130 Nathan Road, Tsim Sha Tsui
Best Massage in Kowloon
rates drop to more palatable 2-300 HKD per hour for massage.
[massage only] Hong Wai Foot and Body Reflexology Centre
2/F, Grand Right Centre, 10 Cameron Road, Tsim Sha Tsui
7/F, Chung Fung Commercial Building, 12 Canton Road, Tsim Sha Tsui
[massage and beauty treatments] Miri Spa
7/F, Chow Tai Fook Commercial Centre, No.580A-F Nathan Road, Mong Kok
15/F, Albion Plaza, 2-6 Granville Road, Tsim Sha Tsui
[massage, scrapping, cupping] Yuen Massage
15 Floor, 642-646 Nathan Road, Mong Kok
Gyms, Pools, and Yoga in Kowloon
MiraSpa – pay 400 HKD for all day use of gym, pool, sauna
Mira Place, 118-130 Nathan Road, Tsim Sha Tsui
Fitness First – gym and fitness classes
5/F, Harbour City, 11 Canton Road, Tsim Sha Tsui
Pure Yoga – daily yoga classes
193 Prince Edward Rd W, Mong Kok
Goji Studios gym, yoga, personal trainers
L9-L11, The ONE, 100 Nathan Road, Tsim Sha Tsui
The Langham Hong Kong – pool access begins at 200 HKD
8 Peking Road, Tsim Sha Tsui
Ritz-Carlton, Kowloon – pool with the most stunning view 700 HKD for day pass inc gym
1 Austin Road West, West Kowloon
Cordis Hotel – 400 HKD for pool, gym and steam room
555 Shanghai Street, Mong Kok
Nightlife in Kowloon
The upmarket bars with stunning harbour views
Aqua Spirit – very upmarket bar with extraordinary views
Level 29 + 30F, One Peking Tsim Sha Tsui
Ozone Rooftop Bar at Ritz Carlton Hotel – the highest bar in the world
118th floor, Ritz-Carlton Hong Kong, International Commerce Centre, 1 Austin Road, Kowloon
Eyebar – great open-air views
30th floor, iSquare Shopping Mall, 63 Nathan Rd., Kowloon
Other bars
Vibes – hookah, craft beer, cocktails and great music at an open-air bar.
5th floor of The Mira, 118 Nathan Road, Tsim Sha Tsui
Knutsford Terrace – a 100m street lined with bars and small restaurants
Knutsford Terrace, Tsim Sha Tsui
Tung Choi Street –  on the street you can find several local bars with cheap drinks
214 to 226 Tung Choi Street, Prince Edward