Ladies Market at Mong Kok
There are approximately 6 million people in Hong Kong, a piece of real estate actually no bigger than Manhattan. Mongkok can be called the world's most populated area and this hustling bustling area is full of shops and street side stalls. Located in the heart of the action in Mongkok District, Ladies Market is one of the most popular and famous markets in the city.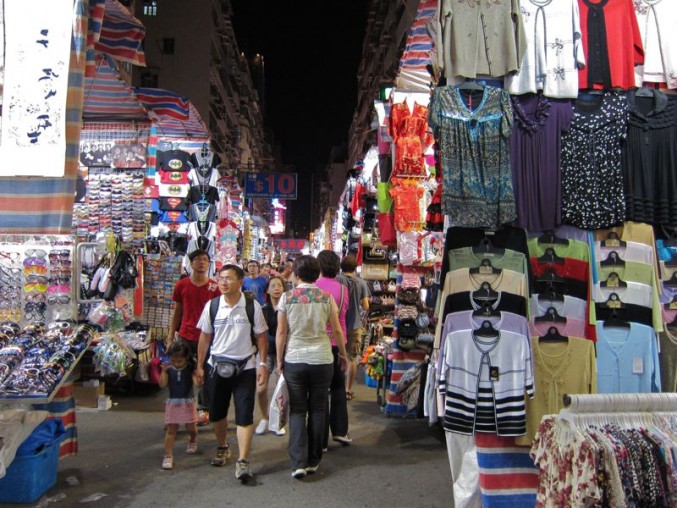 Why is it is called Ladies Market? Settle boys and relax dear wives, it got it's name from being an area where the hawkers mostly sold womens clothes, fashion accessories and the like. It was officially recognized by the government in the mid 70's as an area where hawkers could legally sell their goods and has grown and grown ever since.
You need to practice your bargain skills or just bring a friend who can speak fluent Cantonese with you, cause bargaining is a must in Ladies Market. All prices here are negotiable and if you make the sellers think you are a totally foreigner, then you are done. There is an art to haggling, keep it as friendly banter, you're never going to get the price a local does, but you may be able to negotiate your way out of paying a ridiculous amount of tourist tax :). There first price will be ridiculously high, counter with a ridiculously low offer, expect to to frowned at, or even given dirty looks, it's all part of the game so keep smiling and enjoying the banter as you continue to work towards an agreed amount. You may even need to walk away, only to be called back with your offer accepted. Remember to have fun, it's all part of the market experience.
Copy products can be seen everywhere, from handbags to teabags. Don't be surprised that you can buy a Rolex which has no difference from a genuine one here in a very low price. They are really good at it!. So what you need to do is, if you want to buy something, do remember don't pay too much for it even you think OMG how can I get a Rolex for just 80 dollars! Yes, you can! BUT, in all seriousness, as you would expect, there maybe some major differences in quality and so on.
What can you get here: just about anything – lot's womens clothes and fashion accessories, some mens clothes, handbags, backpacks, toys, jewllery, t-shirts, watches
Opening time: around 11am to 11pm.
Address: Tung Choi Street, Mongkok, Kowloon, Hong Kong (between Argyle Street and Dundas Street)
How to get there: MTR Mong Kok Station, exit D3
Map Location featuring hotels near Ladies Market and Tung Choi St.
[xmlparser feed="http://macaushopper.com/hc/list.php?lat=22.318443&long=114.170753&r=.3&lim=25″ limit="25″ display="hide"]