Langham Place Mall
Located in the Mong Kok area of Kowloon, one of the most prosperous commercial areas in Hong Kong, Langham Place is a landmark in the area. With the iconic facade of yellow fissured Brazilian granite stretching from street level to the roof, the mall's exterior looks very spectacular.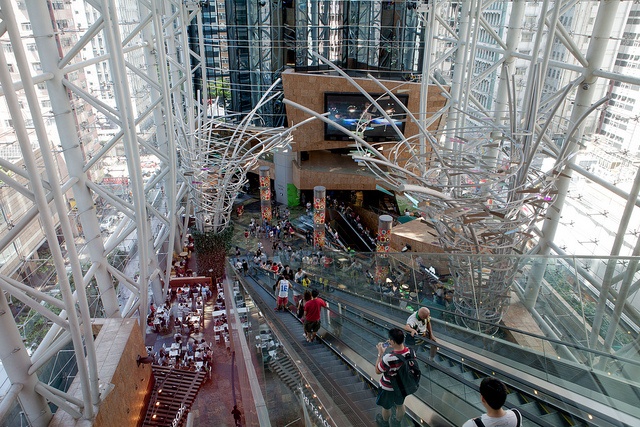 Possessing of a shopping area of 600,000 square feet, the mall houses over 150 retail stores, a food court and a cinema with six screens and 1,122 seats, and an "indoor alfresco dining" area on the top floor. No matter what you want – shopping, entertainment or fine dining, it's here.
Mentioned fashion, you can find many international fashion brands gathering here, such as Armani, Calvin Klein, Chanel, Miss Sixty, Shu Uemura, United Colors of Benetton, Christian Dior, Chevignon, Fred Perry, H&M, Genesis, i.t, Killah, Levi's, Laosmiddle, Monki, Timberland, Vans, Vtwo, Esperanza, Jipi Japa, Staccato, Nike and Adidas.
You can also find the popular supermarket, Market Place by Jasons, along with a 7 Eleven. There are approximately 40 restaurants here with flavors ranging from East to West. There is the famous coffee & desert chain Haagen-Dazs and Starbucks; there is Japanese Cuisine restaurants MIYA Pub and Monster Sushi; there is New York Fires, Shanghainese Dumplings, Pepper Lunch and much more. No matter you want a meal with friends or a business dining, here is an ideal spot.
What can you get there?  clothing, accessories, jewelry, cosmetics and much more.
Prices: about 600 RMB per person.
Website: www.langhamplace.com.hk
How to Get there: MTR, Mong Kok Station, Exit C3.
Address: 8, Argyle Street, Mong Kok, Kowloon
Map Location featuring hotels nearby Langham Place HK
[xmlparser feed="http://macaushopper.com/hc/list.php?lat=22.319021&long=114.16899&r=.3&lim=25″ limit="25″ display="hide"]