Silvercord Shopping Centre
Located at the heart of Tsim Sha Tsui district, Silvercord is a 6-storey shopping centre brimming with shops, restaurants and a food court. With the unmatchable location of only 3 minutes' walk from Tsim Sha Tsui MTR station, the centre attracts thousands of visitors everyday.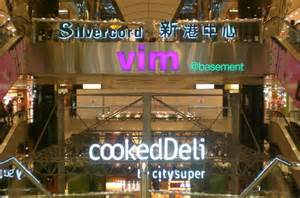 Possessing of a total area of 250,000 square feet, the centre houses all kinds of shops ranging from 100 to 24,000 square feet. The retail shops can provide you trendy fashion items, shoes and accessories. With the elegant decoration and hearty service, Silvercord is another shopping heaven offering some value on the mega luxury shopping street that is Canton Road. The centre also features a City Super supermarket.
Mentioned fashion, you will find many big-name international trendy brands here, including Burberry, Calvin Klein, Avant-Garde, MAGin, Rue Madame and Guess. There are also many young fashion brands like Drex Fable, Benetton, Circles, Lykelihood, Peach John, Dizzy, Fred Perry, Underground, Camper, Izzue, Enigma, Rococo, Liger Store, Stayreal. For cosmetics there's a Sasa store and Colormix.
If you love watches & jewelry, there's Rolex, City Chian, Chow Tai Fook and Tudor here.
If your'e looking for value lunch, try the Silvercord Centre Food Court (Food Republic) which features many choices of western and Asian style dishes. Highly recommend Jiang Shun Fresh Water Seafood here.
What can you get there?  clothing, accessories, jewelry, cosmetics and much more.
Prices: about 450 RMB per person.
Website: www.silvercord.hk
How to Get there: MTR, Tsim Sha Tsui Station, Exit A1
Address: 30 Canton Road, Tsimshatsui, Kowloon.
Map Location featuring hotels near Silvercord HK
[xmlparser feed="http://macaushopper.com/hc/list.php?lat=22.297524&long=114.169168&r=.2&lim=25″ limit="25″ display="hide"]