Harbour City Hong Kong
You could hardly miss Harbour City on a visit to Hong Kong, it's one of the largest malls in Asia and has unmatched location being right on the harbour at Tsim Sha Tsu near the Star Ferry Terminal. How big is it? Try 700+ stores spread over a staggering 2 million square feet. So there's a warning to all men, find something to do for a couple of days.
Actually there's no need for the men to run, there's over 50 restaurants, cafes and bars ranging from fast food chains such as Pizza Hut, the coffee chain Starbucks, there's buffets, seafood, grills and even a Michelin star restaurant. Whatever you're taste there'll be something for you.
There's also 20 or so camera and electronics retailers, a Harley Davidson store and 20+ sports clothes and goods retailers. There's a 100 + mens fashion stores including bauhus, Calvin Klein, Brooks Brothers, Polo Ralph Lauren, Timberland, Tommy Hilfiger, Porsche Design and just about every well known global brand you could think of.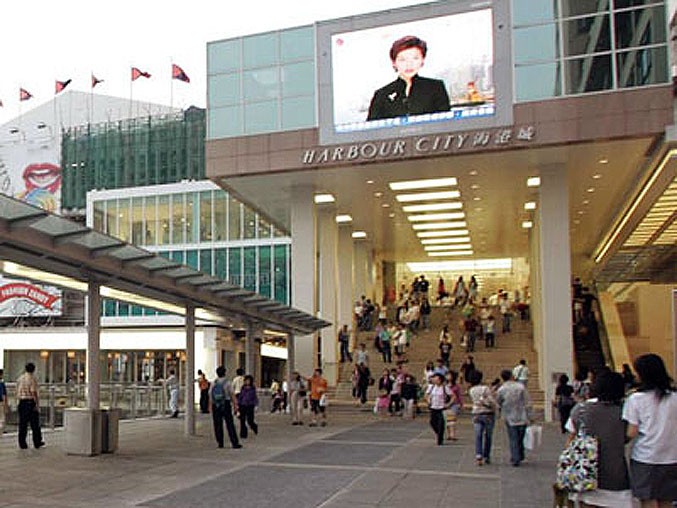 Harbour City is split into 5 zones being Star City (closest to the Star Ferry Terminal), Marco Polo Arcade, Ocean Terminal, Ocean Centre and Gateway Arcade. It's a good idea to grab a map from one of the many concierge counters.
The mall is the Hong Kong's home of big name luxury brands, along Canton Road you'll find huge  Louis Vuitton and Gucci boutiques. Other brands include MCM, Salvatore Ferragamo, Shiatzy Chen, Prada, Yves Saint Laurent, Polo Ralph Lauren, Versace, Burberry, and Hugo Boss.
Other major stores include a massive Toys 'r' Us, Lane Crawford (fashion and lifestyle), City Super (supermarket/deli/lifestyle goods) and Giga Sports (sports equipment).
There's also seating near the bottom of most escalators where you can access free wi-fi.
What can you get there?  clothing, accessories, jewelry, cosmetics, antiques, electronic goods, furniture, housewares, toys, Asian arts and crafts, and much more.
Prices: retail shopping
Website: www.harbourcity.com.hk
How to Get there: MTR Tsim Sha Tsui Station Exit A1, walk along Haiphong Road for five minutes.
Address: 3 – 27 Canton Road, Tsim Sha Tsui, Kowloon
Map Location featuring hotels near Harbour City
[xmlparser feed="http://macaushopper.com/hc/list.php?lat=22.295142&long=114.168935&r=.3&lim=25″ limit="25″ display="hide"]
More things to do by type
More things to do by area
More things to do by nearby MTR Station