IFC Mall
Located at the Finance Street in the heart of Hong Kong, IFC mall, also called International Finance Centre Mall, is adjacent to the five-star luxury Four-Season Hotel and Victoria Harbour. Customers can arrive here directly by Airport Express. It's right by the Central Ferry Terminal and minutes walk from the Hong Kong Macau Ferry Terminal.
Possessing of a business area of 800,000 square feet in a 4-storey building, the mall is really a shopping heaven, covering retail, leisure, dining and entertainment. With the unmatchable location and top-level environment, IFC is one of the most famous and popular shopping mall in Hong Kong.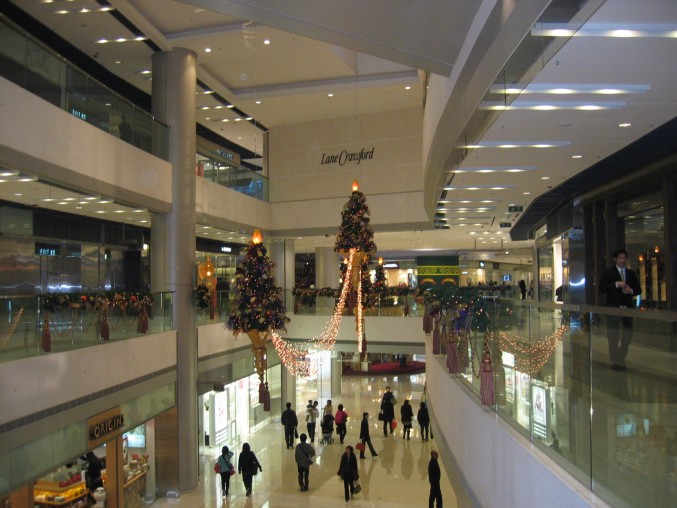 The mall houses more than 100 international brands here, including some big-name luxury ones, such as Burberry, Bvlgari, Cartier, Ermenegildo Zegna, Hugo Boss, Prada, Rolex, Salvatore Ferragamo, Valentino, and Calvin Klein. There is also Hong Kong's first global ZARA flag-ship store here.
Besides, there are fashion mecca, beauty centre, delectable restaurants and Hong Kong's most luxurious cinema palace IFC in the mall. The new concept store of Lei Garden Chinese restaurant is highly recommended. Pret a Manger is a popular spot for lunch, actually get in early if you can, it's challenging to score a seat at lunchtime anywhere in IFC! There's also a City Super which is an upmarket supermarket with a range of everyday items and organic products, they also have a hot food counter which is popular but no seating.
What can you get there?  clothing, accessories, jewelry, cosmetics, antiques, electronic goods, furniture, housewares, toys, Asian arts and crafts, and much more.
Prices: About 5800 RMB per person.
Website: www.ifc.com.hk
Address: 8 Finance Street, Central, Hong Kong.
How to Get there: MTR Hong Kong Station, Exit F.
Map Location with hotels surrounding IFC Mall HK
[xmlparser feed="http://macaushopper.com/hc/list.php?lat=22.285284&long=114.159268&r=.6&lim=25″ limit="25″ display="hide"]