The Landmark at Central
Located in Central on Hong Kong Island, the most prosperous business area, The Landmark is one of the most famous shopping malls of the city. Because of the great reputation, the mall is one of the must visit places for tourists, especially those hunting luxury brands.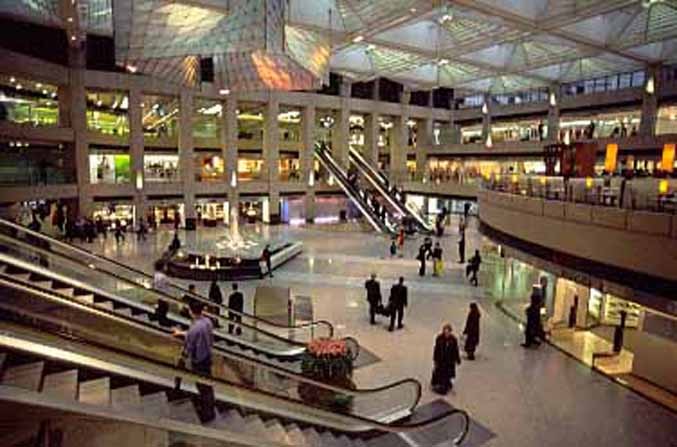 The Landmark consists of three towers but the shopping is concentrated in the area known as the Atrium which is a spacious four-storey area. With the elegant decoration, high-level products and unmatchable service, here is really a shopping heaven. Mentioned products, for example, you can find some special royal brands here, such as Goyard and Tanner Krolle.
You can also find many international fashion brands, such luxury brands: Chanel, LV, Gucci, Loewe, Prada. All these big-name brands have their own stores with spacious area, Prada for example, is spaciously divided into three stores – men, women and leather goods.
You can also find Celine, Max & Co, Tommy Hilfiger, Juicy Couture, Just Cavalli, Marc Jacobs, Ralph Lauren Jeans, Bottega Veneta, Dior, Harvey Nichols, and Tiffany & Co here.
Also at Landmark is a large organic health food store – ThreeSixty. You can find a lot of fresh fruits, vegetables along with flours, spices, herbs, oils, a mouth watering range of crusty breads and much more. (UPDATE: ThreeSixty has moved to Elements Mall)
What can you get there?  clothing, accessories, jewelry, cosmetics, antiques, electronic goods, furniture, housewares, toys, Asian arts and crafts, groceries and much more.
Prices: about 11000 RMB per person.
Website: no official website.
How to Get there: About 500 meters from MTR Hong Kong Station or right at MTR Central G exit.
Address: 15 Queen's Road, Central.
Landmark map location and nearby hotels:
[xmlparser feed="http://macaushopper.com/hc/list.php?lat=22.281105&long=114.157766&r=.5&lim=25″ limit="25″ display="hide"]