YATA Department Store
Located within New Town Plaza on Shatin Centre Street, one of the most prosperous business streets of the area, YATA is a very popular department store in Hong Kong. With the elegant environment and unparalleled service, here offers a variety kinds of products, many Japanese imports, at a very reasonable prices, covering clothing, accessories, jewelries, cosmetics, electronic goods and much more.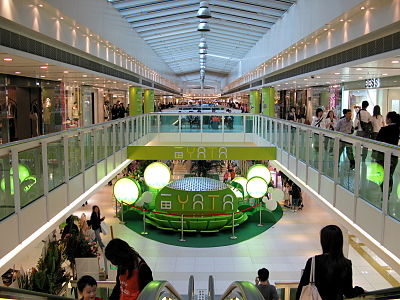 Possessing of a total business area of approximately 150,300 square feet, Yata is a large-scale multi-functional shopping mall including a Japanese supermarket.
Yata is located within New Town Plaza, one of the busiest malls in HK, and also nearby is Grand Central Plaza, Shatin Centre, Shatin Plaza and Citylink Plaza. The mall is one of the ideal places for hanging out with friends or having fun with family.
In Yata there are numerous brand name goods and Japanese imports, the girls will probably be quite interested in the Laniege and Lancome counters amongst the large array of cosmetics and beauty products. Although shopping here is not that expansive, in New Town Plaza there are still many international fashion brands gathering here, including Calvin Klein, Chevignon, Fred Perry, Quilksilver, Mizuno, Levi's, Adidas, Camela, Liz Lisa, ScoLar, Polo Franco, Mirabell, J.Moran, Hush puppies, Anna Sui, Arnold Palmer, Aurora, Esprit and much more.
There are about 10 restaurants near here, including Italian Tomato. You can also find Sushi and BBQ store here. For a delicious little burger try MOS Burger, a Japanese style casual restaurant.
What can you get there?  clothing, fine dining, accessories, jewelry, cosmetics, electronic goods, furniture, housewares, toys, and much more.
Prices: about 950 RMB per person.
Website: www.yata.hk
How to Get there: MTR, Shatin Railway Station.
Address: 2-8, Shatin Centre Street, N.T. Phase III of New Town Plaza.
Map Location featuring hotels near Yata
[xmlparser feed="http://macaushopper.com/hc/list.php?lat=22.38&long=114.187431&r=1&lim=25″ limit="25″ display="hide"]