Apliu Flea Market and Sham Shui Po District
If you looking for a market where the locals shop, here it is. And what an ecclectic place it is. You won't find any Gucci, Prada or any brand that you'd see on Canton Road but you will find loads of value.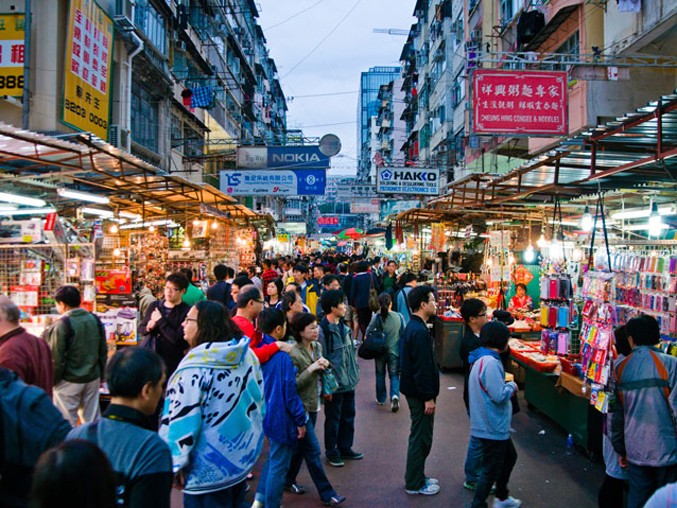 In the area surrounding Sham Shui Po station there's a fashion street, including many wholesale fashion shops, a large sprawling market spanning several streets and a couple of large shopping malls. The whole area has a very local feel to it, unlike say, Temple St market or Ladies market in the heart of HK.
The market is on Apliu St but actually spreads across several streets and is packed with mens, womens and baby clothes in one area, keep walking and you'll find loads of electronics and electrical gear both new and used. You can find anything from a baseball cap for 20HKD to an electric drill, LED lights, satellite dishes and many surprising items. It's not your normal touristy market thats for sure.
On Cheung Sha Wan Road between Yen Chow Street and Wong Chuk Street it's clothes wholesalers and outlet stores all along both sides, most of it is locally made and many of the stores are wholesale only (meaning you have to buy in bulk), but they will often have racks out the front clearing out samples, seconds and run-outs. If you are willing to scrounge through it all you'll be sure to find some diamonds in the rough, possibly for as low as 30HKD.
On Li Chi Kok Road and Ki Lung Street you can find fabric and haberdashers, curtain material and the the like. On Yu Chau Street you can find a bead market.
The Golden Computer Arcade and the Golden Computer Centre at 146 – 152 Fuk Wa Street are extremely popular places for buying computer hardware like ram, motherboards, video cards etc and also for video games. For more PC gear and electronics see New Capital Computer Plaza 85-95 Un Chau Street and the Wonder Building, 161-175 Fuk Wah Street.
A short walk nearby Yen Chow Street you'll find the Dragon Centre which is a large shopping mall targeting the locals, you wont find any luxury brands but you will find loads of great value. Dragon Centre has 9 floors and features stores such as Baleno, Bossini, Giordano, Watsons and many more. Theres also an amuesment park on the 9th floor, Sky Fantasia.
In terms of prices, this is a really refreshing area, in many cases the prices are even cheaper than what you would find on the mainland.
Getting There: MTR Sham Po Station is located right in the middle of all the action.
Map Location featuring hotels near Sham Po Station and Apliu Street