The Top Ten HK Tea Restaurants and the Must Order Items
Hong Kong Tea Restaurants, or Cha Chaan Teng (茶餐廳), are the staple eatery for many locals offering a diverse range of Hong Kong-style Western cuisine that was born out of the fusion of British and local cultures many years ago.
Originating back in the 50's as an affordable option for Western food, which was becoming increasingly popular at the time, Cha Chaan Tengs started opening up across the city and became the go-to place for comfort food.
Nowadays, they are so popular that you will surely not have to walk too far to find one, I am sure, that if you are in an urban area then there is surely one within stone's throw of where you are standing! They are so popular that many franchises have been built on the concept including Café de Coral, Maxim's, and Fairwood.
What to Order at a Cha Chaan Teng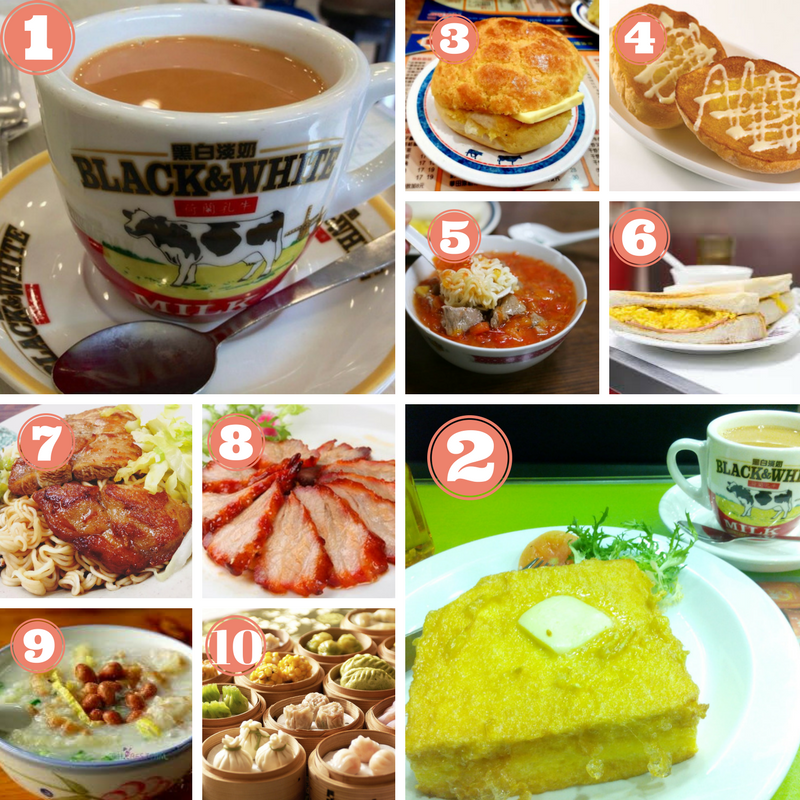 1. Hong Kong Milk Tea
These restaurants are perhaps most famous for their interpretation of milk tea. Hong Kong Milk Tea is highly popular, such that there are 'tea masters' who battle to have the most highly regarded cup. Using blends of tea leaves, perhaps as many as seven types of leaves, and their own time-tested methods of brewing to create the perfect cup.
Yuanyang
A blend of coffee and tea. Served hot or cold, and again, everyone has their own recipe. As a rough guide, it's a mixture of 7 parts HK Milk Tea to 3 parts coffee.
Other drinks you'll see on the menu are black tea, which is often served free on seating, iced tea with lemon, Coca-Cola with lemon and Ovaltine.
2. French Toast
A perfect match for milk tea or yuanyang, the HK version of French Toast is two generous slices of bread with many places offering fillings such as kaya butter, peanut butter, custard, jam and more, then battered and fried. It's a must try. Often served with butter and a side of maple syrup, corn syrup, honey, and/or condensed milk depending on the restaurant.
3. Pineapple Buns
Another perfect match for milk tea or yuanyang and often paired as a set. The pineapple bun named so only due to appearance formed by the crunchy sweet layer that's on top of the super soft slightly sweet bread. They are usually served sliced sideways with a piece of butter inside. They are also offered up hamburger style, with a thick slice of ham, or fried egg, or piece of pork and egg inside.
4. Crispy Bun Served w/ Sweet Condensed Milk
Doesn't get much simpler, an open cut bun, freshly toasted, buttered, and drizzled with condensed milk.
5. Noodles
Numerous types, depending on the restaurant some will offer a western HK style of noodle and some more Chinese style of noodle. Most commonly you'll find either macaroni, or frizzly noodles in a broth topped with spam, or ham, and an egg. Some places serve the noodles in a tomato soup. Whilst it sounds plain, it's an oddly comforting dish.
6. Sandwich
Usually lightly toasted white bread with various fillings and the most common being egg and ham.
7. Pork Chop
A pork chop often served with an omelet, and toast or served with noodles or rice and veg. Can also find Macau style pork chop buns offered at some places.
8. Char Sui (BBQ Pork)
Some restaurants will offer the traditional Cantonese BBQ pork, often served with rice.
9. Congee
Some offer rice porridge, often with different toppings which may include preserved eggs or preserved vegetables.
10. Dim Sum
Some restaurants may also have a full or part dim sum menu. (also see The best Dim Sum restaurants in HK)
The Top Ten Hong Kong Tea Restaurants
Mrs Tang Cafe has several branches in HK now, but the Kwun Tong store is still the most popular. Renowned for their pineapple buns, tomato soup, and great value.
Mrs Tang Cafe – Kwun Tong 华嫂冰室
Av. price per person 54
Address: 1, King Palace Plaza, 55 King Yip St, Kwun Tong 九龙湾/观塘 观塘敬业街皇廷广场1号铺
Mrs Tang Cafe – Wan Chai 华嫂冰室(湾仔)
Av. price per person ¥54
Address: 272 Jaffe Road, Wan Chai 湾仔/铜锣湾 湾仔谢斐道272号杜智台地下3-4号铺
Kam Wah Cafe is another place popular for its pineapple buns and also it's french toast. Expect a line.
Kam Wah Cafe 金華冰廳
Av. price per person ¥38
Address: 47 Bute St, Prince Edward  旺角/油麻地 旺角太子弼街47号地下
Australian Dairy Company, drawing its name from the owners time on an Australian dairy farm, is perhaps one of the most popular HK Tea restaurants with visitors to the city. It's also popular with locals as the taste is good and the price is right.
Australian Dairy Company 澳洲牛奶公司(佐敦店)
Av. price per person ¥40
Address: 47 Parkes Street, Jordan, Kowloon  旺角/油麻地 佐敦白加士街47号
Sun Hang Yuen is located out of the way at Sham Sui Po which if you are going to Golden Computer Arcade or the clothing markets there, then this is a great spot for refueling. They are renowned for their beef egg sandwiches.
Sun Hang Yuen 新香园(坚记)
284 条点评 | 人均 ¥33
Address: 38 Kweilin St, Sham Shui Po  旺角/油麻地 深水埗桂林街38号A地下
Lan Fong Yuen at Central is claimed to be the origin of Hong Kong Milk Tea, and it's still a popular place today, known for its beef brisket noodles, and pork chop bun. They also have a store at Tsim Sha Tsui and Sheung Wan.
Lan Fong Yuen 蘭芳園
Av. price per person 40
Address: 2 Gage St, Central 中环结志街2号地下
Lan Fong Yuen  Sheung Wan 兰芳园茶餐厅(上环店)
Address: Shun Tak Centre near HK Macau Ferry Terminal 上环/中环 上环干诺道中168-200号信德中心3楼304D号铺
Lan Fong Yuen Tsim Sha Tsui 兰芳园茶餐厅(尖沙咀店)
Address: 36-44 Nathan Rd, Chungking Mansion, Tsim Sha Tsui 尖沙咀 尖沙咀弥敦道36-44号重庆大厦活方地库26号铺
Tsui Wah Restaurant has 9 locations and is popular for its Hainanese Chicken and their central store on Wellington road is open 24hrs.
Tsui Wah Restaurant 翠華餐廳
Av spend per person 75 HKD
Address:  15-19 Wellington St., Central. 中環威靈頓街15-19號地下至二樓
All their stores https://goo.gl/maps/Dfs8ac7GCpv
Hong Lin Restaurant has three stores, their Mong Kok store is perhaps the most convenient. Popular for its egg tarts and tomato soup.
Hong Lin Restaurant 康年餐廳
Av spend per person 47 HKD
Address: 143-145, Tung Choi St, Mong Kok 旺角/油麻地 太子通菜街143-145号地下
Kam Fung Cafe is famous for its Chicken pies, egg tarts, pineapple buns and milk tea.
Kam Fung Cafe 金鳳茶餐廳
Av spend per person 37 HKD
Address: 41 Spring Garden Ln, Wan Chai,
Star Cafe is famous for its tomato soup noodles
Star Cafe  星座冰室
Av spend per person 37 HKD
Address: Shop 36, Champagne Court, 16-20 Kimberley Road, Tsim Sha Tsui.
Wing Lok Yuen Restaurant is popular for its HK style hot dog.
Wing Lok Yuen Restaurant 永乐园餐厅
Av spend per person 27 HKD
Address: 19 Chiu Lung Street, Central  中环昭隆街19号地下
Restaurant Map