Temple Street Night Market
It's one of HK's most popular markets and it has also been the scene of many Hong Kong movies, especially the Gangster film in 1990s. Located in Yau Ma Tei, Temple Street Night Market can be called an icon of HK.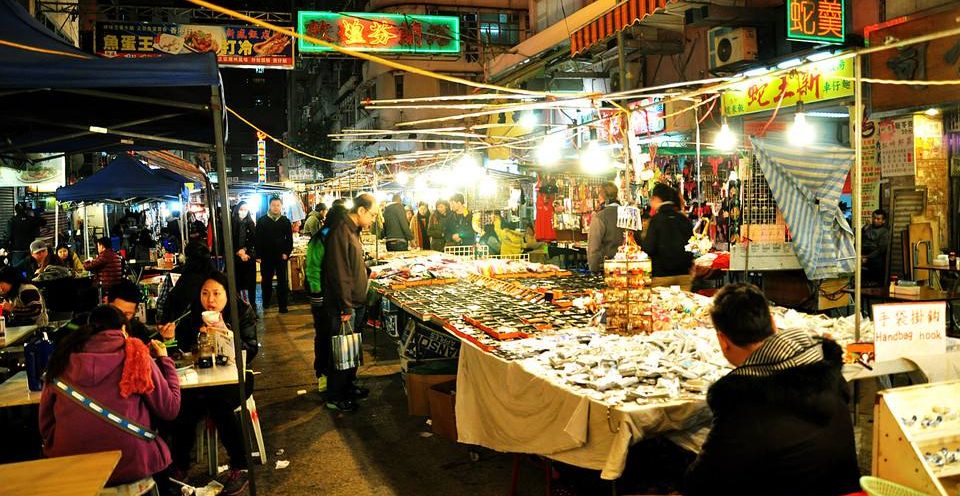 As one of the liveliest night markets in Kowloon, here is a popular place to purchase all kinds of men's and womens clothing, kids clothes, local snacks, watches, pirated CDS and DVDs, accessories and household items. The market is also renowned for copy t-shirts and the like.
One of the quirky highlights of the market is that you can find many fortunetellers and herbalists as well as free open-air Cantonese opera from budding buskers.
As for prices, bargaining here is essential, stall owners can smell a tourist 50 meters away! You can definitely grab a bargain and some interesting curious but you will need to understand some of the local tricks. Store owners love to plead against your good will, and will quickly show a sour face if you refuse their offer, ignore this, it's just a play, offer half what they ask initially ask for to which the likely response will be ' sir/miss, can not', and you can respond with a slight increase and saying that it's your last offer. Keep haggling, with a smile, and be prepared to walk away whilst waiting for a holla 'OK sir, OK'.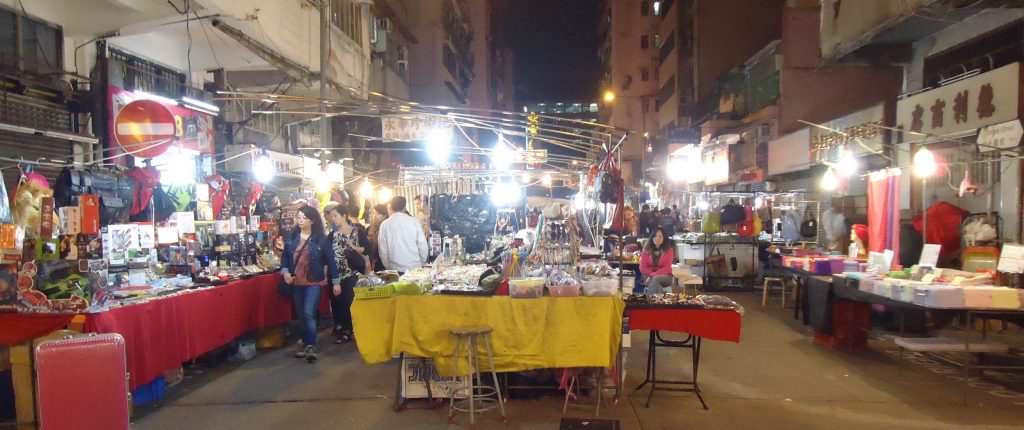 You can enjoy the most authentic Hong Kong local snacks here. Seafood and clay pot rice is a must-try. The street side restaurants are known as Dai Pai Dongs, whilst they are basic and look quite rudimentary, the atmosphere can't be beaten and the taste, simply delicious. Space is limited so strangers often share tables and table service is virtually non-existent. The process is simple, secure a table, go to desk and order and it's likely you'll need to point at pictures as most shop staff will only speak Cantonese. Sounds difficult and awkward, but trust me, it's a must do.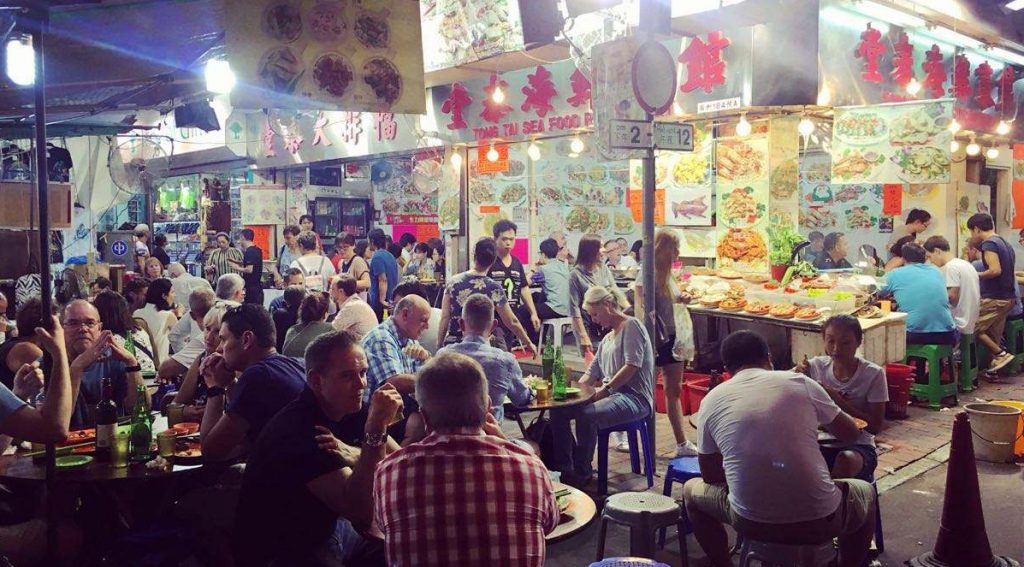 The market opens in the afternoon, around 4pm, and closes by midnight and the prime-time would be between 7 pm to 10 pm, when the market is in full swing. Even if you are not looking to buy anything it's worth visiting just for the atmosphere, and there's also a few bars in the area and cafes where you eat, drink and soak up the buzz.
Also, do some exploring, along with the stalls there are many traditional shops worth checking out and some stalls away from the main market thoroughfare offer up interesting and sometimes crazily cheap stuff.
This market is sometimes referred to as Men's Market and is probably a little larger than Ladies Market in Mong Kok and many people will visit here twice while on holidays. While the range of goods is slightly skewed towards their namesakes both markets carry goods for either sex and both are well worth visiting.
What can you get there?  clothes, watches, accessories, jewelry, cosmetics, electronic goods, footwear, household items and much more.
Prices: Need to bargain.
How to Get there: MTR, Jordan Station Exit A or Yau Ma Tei Station Exit C. Note: Temple Street Market is quite long, running from the intersection at Man Ming Lane down Temple St, then Public Square St, then continuing down at the resumption of Temple St all the way down to the intersection at Jordan St where there is a traditional Chinese gate.
Address: Temple Street, Yau Ma Tei, Kowloon
Here's a map that displays the market streets outlined in red and hotels near Temple Street Night Market.
Where to Stay near Temple Street Night Market?
If the night market is a major feature of your stay in Hong Kong the I would suggest one of the hotels near to Jordan MTR Station which is within easy walking distance of the market and the added bonus of being able to easily hop on the MTR and head to Central or to Mong Kok to visit Ladies Market and the shopping in that area.
Here are my top picks for that purpose:
Hotel Madera Hong Kong – Four Star – a short walk to Jordan MTR and the market. The hotel is modern, quite (as it's set back from Nathan Rd) and the rooms are big by HK standards.
Prudential Hotel – Four Star – right next to Jordan Station, larger rooms by HK standards, it's modern and clean. Features roof top terrace and swimming pool.
Shamrock Hotel – Three Star – The rooms are large here and the hotel has a very decent buffet. Right next to the MTR.
Ocean Inn – Guest House – A great budget pick, clean, friendly staff and the place consistently receives great reviews from past guests.
Hang Ho Hostel – Guest House – very close to Jordan Station, basic but clean with A/C, WiFi and also has family rooms.
HK Nathan House – Guest House – another value pick, great location and the place is clean.