Shopping in Hong Kong for Electronics & Computers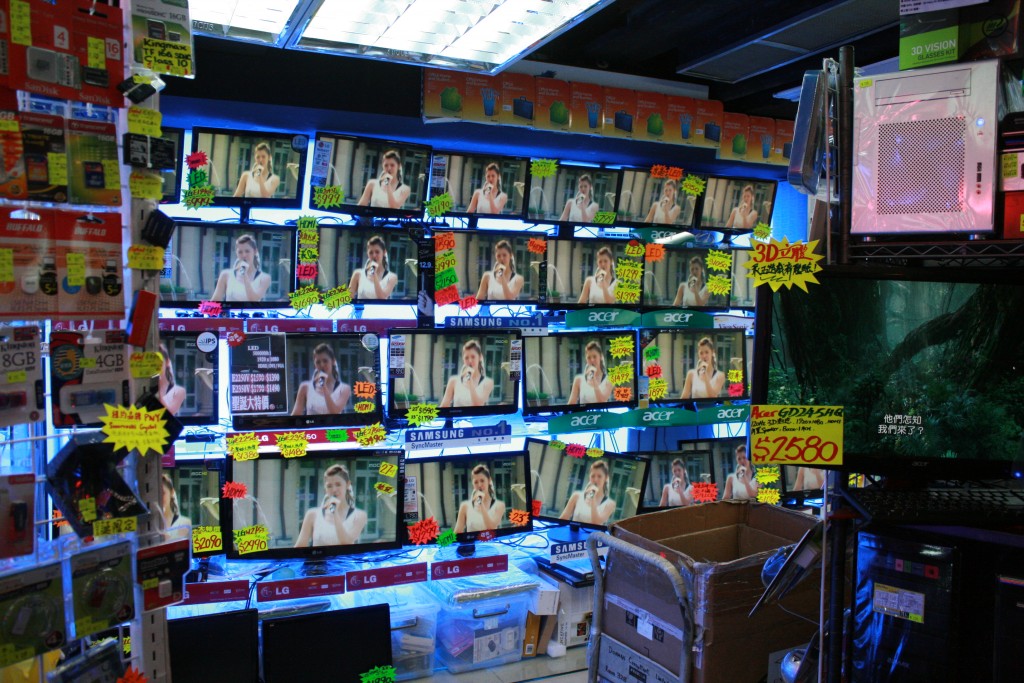 The secret to getting a bargain on electronics goods in Hong Kong nowadays is simple, do your research. Get online, and now exactly the model you want, the specs and compare prices from the various stores and markets. Also keep in mind that items from markets may be 'grey imports' or 'parallel imports' in that they are new and authentic but have been brought in to the country privately rather than through manufacturers sales channel. What's the issue? You may or may not have factory warranty.
Even if you buy from a retail store, you may or may not have warranty when you return to your home country. These are points to have clearly resolved before handing over any cash. Also remember to add in the cost of a charging adapter that suits your country.
There's also copies, remember, Shenzhen is just across the border, and it's the capital of copy electronics manufacturing, so no doubt some of that comes into HK. Always get receipts, even take a photo of the stall (so you remember where you purchased it), do your research online, and you should be reasonably safe at these destinations.
The computer and electronics markets:
Wan Chai Computer Centre
Hardware, mobiles, laptops, ipads, accessories from most major brands like Dell, Lenovo, HP, Samsung, Apple etc. plus lots of generic.
Address: 144 Hennessy Road, Wan Chai
Golden Computer Centre
Software, hardware and gaming. One of the larger markets.
Address: 146 – 152 Fuk Wa Street, Sham Shui Po
New Capital Computer Plaza
A smaller market near Golden Computer Centre
Address: 85-89 Un Chau St, Sham Shui Po
Mong Kok Computer Centre
Several floors of hardware, mobiles, laptops, ipads, accessories from most major brands like Dell, Lenovo, HP, Samsung, Apple etc. plus lots of generic. There are also several photography gear stalls.
Address: 8 Nelson Street, Mong Kok
Sin Tat Plaza
A small two level mobile phone and accessory market, there's also many phone repair stalls. There's seemingly a lot of copy/oem/generic  products here too, if your looking for something cheaper and willing to take a punt.
Address: 83 Argyle St, Mong Kok
Sim City
New and Used photography gear including cameras, lenses and accessories.
Address: 47-51 Shantung Street, Mong Kok
Star Computer City
A small group of stores, conveniently located near Victoria Harbor
Address: 3 Salisbury Rd 2nd fl, Star House, Tsim Sha Tsui
Major Electronics and Electrical Retail Stores in HK
The benefit of these stores is the certainty regarding to authenticity, and after sales support.
Broadway
Focused on photography gear, but also a large range of electronics (computers, pads, laptops, smart phones etc.). Various locations. http://www.broadway.com.hk/
Chung Yuen
All major brands (ie. Sony, Go Pro, LG, Pentax, Philips, Panasonic, Daikin, HTC, etc.). Various locations. http://www.cyeshop.com/
Fortress
A major department store with several locations in major shopping areas. See their website for locations: http://www.fortress.com.hk
Sunning
Electronics and home electrical. Various locations. http://www.cnsuning.com.hk/
Questions? Your tips?
You